Yolanda Brooks and John Ruiz: Empowerment through the arts
Amber Borden | 2/13/2020, 1:07 p.m.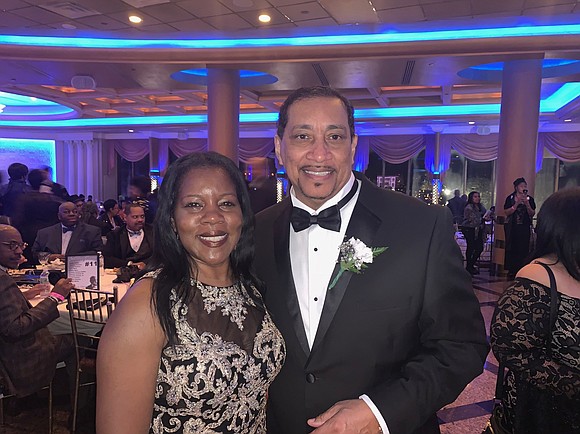 In a neat East Harlem office, decorated with accolades, photos, and props, sit Yolanda Brooks and John Ruiz. The two are a couple that is spearheading Black empowerment and education through the arts. Their most recent and upcoming project is a research documentary on Nelson Mandela, titled "Mandela: Coming to America" for the 30th anniversary of Mandela's meeting with David Dinkins.
It takes two
Married for four years, their union is a seemingly perfect match. The pair work together to create plays, one of which is their hit "Mandela" that is now in its sixth year. Ruiz compares their creative dynamic to a song. "…She's the words to my music. Without her there is no melody," he said.
Yolanda Brooks is a senior inspector for the NYC Department of Health for 25 years as well as being the CEO of "Our Firefighters Children's Foundation" and her own production company "Yolanda Brooks Productions." John Ruiz also known as the Rappin' Fireman has an extensive career in teaching young children about fire safety for 36 years. Ruiz was a NYC Firefighter and is now in his 9th term of being elected a Democratic District Leader.
The duo has written, produced and toured a number of plays that leave a lasting impact on their audiences. These plays include, "Scrooge," "Motown," "Harriet Tubman," "Barack Obama," "Martin Luther King," "African American Adventures" and more. A majority of their plays center Black leaders and culture to shed light on the impact these people and moments had and continue to have. The plays are geared towards school aged children with Black History Month being the most popular time they showcase their plays.
Both having the theater bug, they believe that a play should be an experience as much as it is entertaining. With that notion, it is exactly what Ruiz and Brooks do when it comes to their productions. "We have a unique and clever way of telling a story," said Ruiz. "We want our audiences to feel connected and we want them to feel different from when they walked in," Brooks said.
The "Mandela" effect
"We took a deep breath, exhaled, and there it was," said Brooks. The first scene of their play "Mandela" was born. Written when Mandela's life was coming to an end in 2014, John and Yolanda were sitting at their dining room table, also known as their special table, when John suggested that the two write about Nelson Mandela. Their work snowballed from a 15-minute play to a major production, to then premiere in the National Black Theater.
Brooks and Ruiz's connection to Nelson Mandela started early in their lives. As a child, Brooks' parents would go to protests while Mandela was in jail and would explain to her and her siblings what was happening to him, the people in South Africa, and why these events were occurring. "I grew up in a household where standing up for your rights was at the center of what we were taught. Even though I was a small child I knew right away that this was wrong. It stuck with me for the rest of my life," explained Brooks.