Fire destroys historic Black church in Elizabeth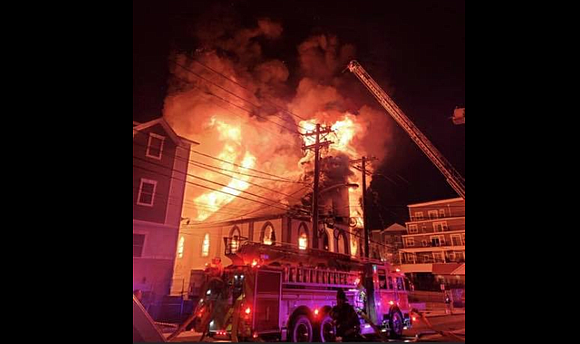 The Shiloh Baptist Church in Elizabeth, N.J. has plans to rebuild after the 140-year-old church was destroyed by a fire.
Reports indicate the fire started around 3 a.m. at the church, located at 95 Murray Street, in the rear of the building. Fire officials said firefighters arrived at the scene to put out the four-alarm blaze. The church was completely destroyed.
Officials are still investigating the cause of the blaze and no injuries were reported.
"It's sad," said Elizabeth Fire Department Chief Thomas McNamara. "It's a sad day when you have a church that catches on fire, especially one that's pretty much destroyed."
Shiloh Baptist Church is a pillar in the community that offered several services including a food pantry and clothing giveaways. The church's pastor, the Rev. William Ingram, said the fire occured before Sunday worship services; after he found out about the blaze he drove to the church and saw the structure engulfed in flames.
"We were anticipating waking up this morning coming to church to worship…and you wake up to this," he said in one published report. "[But] that's the nature of life, and you know, that's why we have faith."
Ingram has been with the church for the past 24 years and says the congregation plans to rebuild. A GoFundMe page has been setup with a goal of $2 million. Go to https://www.gofundme.com/f/shiloh-baptist-church-fire to make a donation.