On Inequality: In remembrance of Trayvon Martin
Tyreta Foster | 2/25/2020, 1:09 p.m.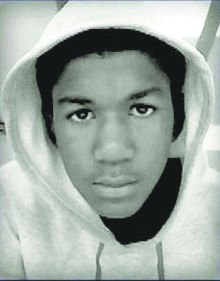 I am still a little wary of riding the number two IRT train. Remember Bernard Goetz? He repeatedly shot four unarmed Black children in the '80s in New York, even after whatever exigent circumstances existed had past, and he got off. 'Bernie' shot them on the same train I used to travel on between the Bronx and Manhattan to attend Hunter High School, a free school for the gifted. Three decades later, I now realize that my African-American parents risked everything, including my safety to afford me an educational opportunity granted to a select few.
Race has always been a major factor in my life. My deceased father, a Harlemite, graduated with a degree in physics from a Historically Black College, yet found himself having to sue his first employer, a Fortune 500 company, for racial discrimination in the '70s—pre-Texaco. Needless to say, my dad was not too keen on the idea of me attending an overwhelmingly white school, gifted or not. But for my mom's insistence and the fact that there was not a comparable school in the Bronx, I would not be a Hunter alumna if my dad had his druthers.
My father frequently made me walk with him from my school at 94th and Park to 125th Street and Lexington Avenue before boarding the train to the Bronx to keep me rooted. He would wax eloquently on inequality and the disparate treatment of Blacks versus Whites in our society. The opulence and cleanliness of the beginning of our route versus the filth and blight of the endpoint served to punctuate my dad's teachings.
While my white classmates' lives seemed to be filled with choices and endless possibilities, the metes and bounds of my existence were made clear early on. I could not experiment with drinking, let alone any illegal substances, not because doing so was bad for my health, but rather because "when the cops come, they are going to take you, the little Black girl away." In the aftermath of the killing of Michael Griffith and Yusef Hawkins, I could not travel to Queens or Brooklyn by myself because as a Black child, I was obviously not welcomed there, and doing so may have led to my death. Central Park was off limits to me, not because I might be assaulted or raped, but because of the fabricated "wilding" incident, which proved that it was just another place that I didn't belong as a Black child. My parents forbade me to sign any petitions, fearing retaliation from some omnipotent group that would thwart my chances for "success." As a child, I resented the limits of race. However, as an adult attorney practicing in Harlem, I now know that I am so lucky and grateful to be alive, due in large part to my parents and their honest and constant dialogue on race and inequality.
Ironically, I did not watch any of the George Zimmerman Trial. I just knew. Poor Travyvon Martin was found guilty from the jump—after all, he was young and Black; how dare he just "be"? All attorneys—especially Black ones—know that there are at least four standards of justice: one for white people; one for Blacks, Hispanics, Muslims and other ethnic and religious minorities; one for the wealthy; and one for celebrities. There may be some intersectionality between categories, but generally speaking, that's the reality in all matters—whether criminal or civil—before any court. We also know that there isn't a "race card." No endless credit or debit card is given to Blacks in America based on the atrocities of slavery and the inequities that linger. Rather, it is that same immutable characteristic that to this day predetermines socio-economic outcomes and justice in America.