AmNews Male and Female 2019 Athletes of the Year
JAIME C. HARRIS | 1/2/2020, midnight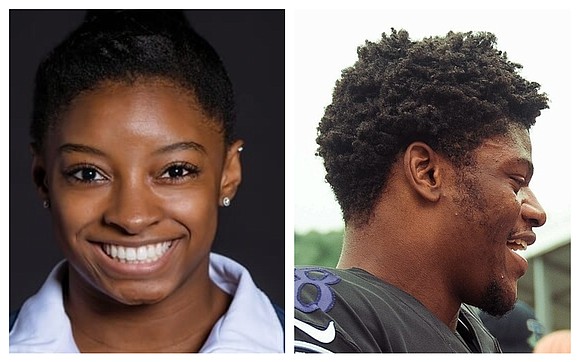 Some athletes' greatness, measured by statistics, championships and personal honors is undeniable. LeBron James, Serena Williams, Tiger Woods, Tom Brady, Lionel Messi, Megan Rapinoe, Lewis Hamilton, Kawhi Leonard, Daniel Romanchuk and Manuela Schar have earned the designation global icon even if they compete in a relatively obscure sport such as wheelchair racing––as do unquestioned superstars Romanchuk and Schar.
All are among the men and women the AmNews sports staff considered naming our Male and Female 2019 Athletes of the Year. Yet two stood out for not only dominating their respective sport but for revolutionizing them. NFL quarterback Lamar Jackson and gymnast Simone Biles displayed courage, humility and class while demolishing doubts, perceptions and stereotypes. They defied limitations some narrowly placed upon them while inspiring a generation of youth who often hear what they can't be to aspire to become vanguards.
Last August at the U.S. Gymnastics Championships, the 22-year-old Biles became the first person to ever attempt and successfully land a double-double dismount from the balance beam. Before the year was over she landed a theretofore never achieved triple-double, which seemingly redefines the laws of physics encompassing a double backflip with three twists. The move is now known as the Biles II. Her unmatched skills have earned the Columbus, Oh. native four Olympic gold medals and fourteen world titles.

In 2018 Biles also courageously revealed that she was sexually abused by Larry Nassar, a former USA National Team doctor who was accused of assaulting up to 250 young women and girls during his time working with the national team and at Michigan State dating back to 1992. In 2017 Nassar pleaded guilty to multiple counts of first-degree criminal sexual conduct and received sentences in state and federal courts totaling of up to 235 years in prison.

Heading into the 2018 NFL Draft, some pro scouts and pundits opined that Jackson, also 22, should strongly consider switching from quarterback to wide receiver when he left the University of Louisville to pursue a professional career. This despite Jackson winning the 2016 Heisman Trophy, college football's most prestigious award, as an unstoppable QB.
Thankfully Jackson and the Baltimore Ravens dismissed their opinions. In this, only his second NFL season, Jackson led the Ravens to earning the best record in the league at 14-2 and established a long list of NFL records including becoming the first player to throw 30 touchdowns and rush for 1,000 yards in a single season; the first player to ever rush for 1,000 plus yards and pass for 3,000 plus yards in a single season (he broke Michael Vick's record for most rushing yards in a season by a QB with 1,206); and became the youngest player with 5 touchdown passes in multiple games. And oh, he will soon be named the NFL's youngest ever MVP. More than anything,
Jackson yearns to become the youngest ever Super Bowl winning quarterback. The game will be played in February at Hard Rock Stadium in Miami Gardens, Florida, less than 35 miles from his hometown of Pompano Beach. It would be a dream ending to a dream season.