Black Theater Year In Review, Part 2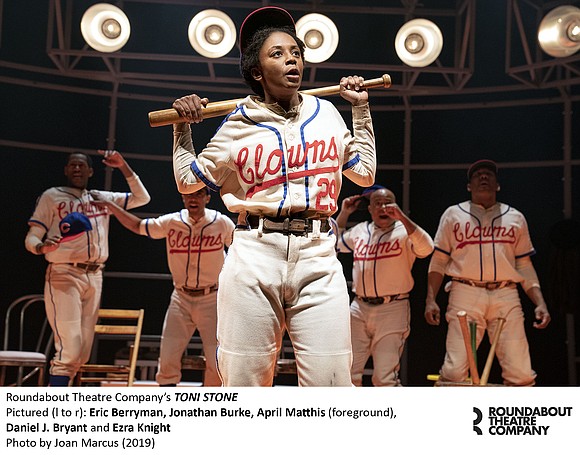 In July Lydia Diamond found herself with a "hit" as her play "Toni Stone," about the first pro Black woman baseball player was presented by the Roundabout Theatre. Diamond's play showed that she had done a great deal of research into Toni Stone's life and she presented the audiences with a portrait of a whole person. A baseball player who wasn't accepted, had a hard time seeing herself as a feminine woman and had difficulty with having relationships. This play gave people of this generation a chance to see and appreciate all that this boundary breaker had to go through for women to have their roles in professional sports today. The cast of "Toni Stone" hit "homeruns" and featured Black actors including April Matthis, Kenn E. Head, Harvy Blanks, Eric Berryman, Phillip James Brennan, Daniel J. Bryant, Jonathan Burke, Toney Goins, and Ezra Knight. Camille A. Brown choreographed the sports moves and clowning around moves. The play had impeccable direction by Pam MacKinnon. "The Secret Life of Bees" was a very "buzz-worthy" musical with a book by Pulitzer prize winning playwright Lynn Nottage. Playing at the Linda Gross Theater it was presented by the Atlantic Theater Company and told a story of racism, lies and segregation in the South. This musical had uplifting and extraordinary singing performances you could hear. But, this was no surprise as the mixed cast was full of enormous talents including Tony winner LaChanze, Saycon Sengbloh, Eisa Davis, Anastasia McCleskey, Brett Gray, Elizabeth Teeter, Nathaniel Stampley, Manuel Feliciano, Joe Cassidy, Romelda Teron Benjamin, Vita E. Cleveland, Matt DeAngelis, and Jai'len Christine Li Josey. There was also wonderful choreography by Chris Walker and dazzling direction by Sam Gold. Six-time Tony Award winner Audra McDonald returned to Broadway, out of her comfort zone, and did a two-character drama with Michael Shannon called "Frankie & Johnny at the Clair de Lune." A play in which she was completely naked for the entire beginning, but every moment was done in good taste! The story was a romantic drama that delved deep into human relationships. They did a marvelous delivery of this Terrance McNally classic and were directed by Arin Arbus. It played at the Broadhurst Theater.
In August Karimah gave us her play "Imminently Yours," performed by the Negro Ensemble Company at Theatre 80 St. Marks and directed by Count Stovall. The play tells the interesting story of a society of Black families that live high on a mountain in what look like shacks, but this community has a secret that it is keeping from the eyes and ears of the government. When that secret is revealed the community is devastated. The play was a chance to see theater veteran Dorothi Fox, Arthur French and Edythe Jason on the stage, doing what they do best. The fantastic cast also featured Colette Bryce, Nia Akilah Robinson and Ryan Desaulniers. In "Down To Eartha" Dierdra McDowell not only writes about the life of Eartha Kitt but embodies her as she performs her one-woman show. Presented at the Gene Frankel Theatre, McDowell tells the tragic story of Kitt's life, not just as a performer, but as an actress and singer and when she spoke out against the U.S. government about the Vietnam War and Pres. Lyndon Johnson had her blacklisted. She shows Kitt as a single mother trying to get work to feed and clothe her daughter. She demonstrated a very connectable side to this movie and TV icon. The play was stunningly directed by Marishka S. Phillips. "SHEnanigans" by Helena D. Lewis was a work she wrote as a tribute to her late mother and a work she performed with her whole heart and soul. The beautiful one-woman show had the audience engaged as Lewis talked about her devastation over her mother's passing and then told what happened in her life afterwards. She talked about having to take on all the responsibilities her mother had including taking care of her aging father that she didn't really like at first and the family dog. The production is truly bought to life by large projected photos of her mother, father and the family dog. She even portrayed the dog and conveyed his thoughts. It was touching and delightful. This marvelous work, which was part of Lewis' healing process after losing her mother suddenly was presented by the Wild Project and Crazy Girl Productions and astonishingly directed by Rome Neal. "Sweet Lorraine" written by Rajendra Ramoon Maharaj and Adam Mace, and conceived and directed by Maharaj was presented by Rebel Theater Company in association with NAACP Brooklyn Brand Equity in the Arts and Culture Committee and the RAVE Theater Festival. It imagined a meeting between playwright Lorraine Hansberry and writer James Baldwin in her hospital room when she is dying of cancer. It was an amazing play that showed a deep friendship and love that these two creative people had for each other. It starred a marvelous cast—Valisia LeKae and Christopher Augustin. Richard Wright's "Native Son" got an update with a book by Nambi E. Kelley and was revived by the Acting Company. It looked at the way that Black men were perceived by white society decades ago, as being stupid, criminals and unworthy. The production was given new life at the Duke Theatre and featured an amazing cast that included Galen Ryan Kane, Rebekah Brockman, Jason Bowen, Laura Gragtmans, Katherine Renee Turner, Lorenzo Jackson, Rosalyn Coleman, Anthony Bowden, Henry Jenkinson, and Keshav Moodliar. It was powerfully directed by Seret Scott. Sahr Ngaujah of "FELA" fame is back on Broadway starring in "Moulin Rouge" at the Al Hirschfeld Theater. This musical takes musicals to a new high of excitement and delight. It creates a world where anything goes and Ngaujah is marvelous, along with a great starring cast and ensemble.