Brooklyn's not playing very well, but how long will that last?
VINCENT DAVIS | 1/2/2020, midnight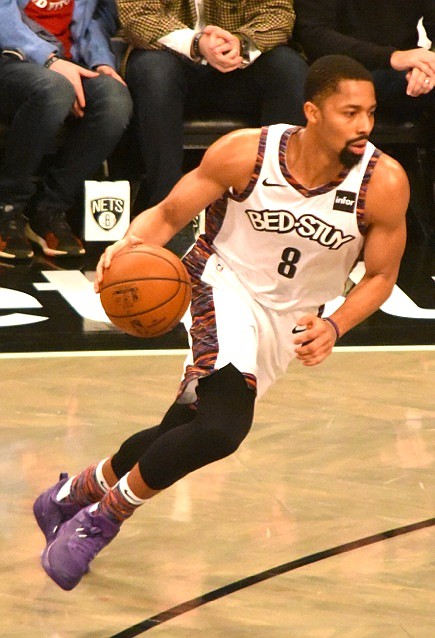 The Brooklyn Nets may have reached their apex. Maybe it's algorithms, but there is a conundrum.
There would be no questioning the Nets after their 108-98 road loss to a fourth place Western Conference Houston Rockets team led by an MVP backcourt of James Harden and Russell Westbrook on Saturday night, but their 94-82 home loss, and how they lost to the New York Knicks, a fourteen out of the fifteen Eastern Conference teams two nights before, is cause for concern.
It went bad for Brooklyn after Spencer Dinwiddie's 24-foot three at the 7:16 mark of the first quarter. With the score at 13-9 Brooklyn, the Knicks held the Nets to those 13 points until the end of this quarter. Brooklyn finally scored, again, with 26-seconds left in the quarter, a DeAndre Jordan layup. The score, now 22-15 Knicks, Brooklyn hadn't made a basket in 6 minutes, 50 seconds. No lay-ups, no dunks, no jumpers, no three's, no free throws. A 24-15 first quarter.
It also took Brooklyn 8 minutes and 8 seconds to score a field goal from the start of the third quarter. Their points were supplemented by 7 free throws.
Dinwiddie blamed it on too much holiday eggnog, but head coach Kenny Atkinson was more forthright. "Give them the credit. They simply were the better team tonight," admitting that his team was outplayed, "plain and simple."
Brooklyn's shooting was the worst performance by a team this season, 21 of 78 from the field, 26.9%. They only hit eight 2-pointers during the entire game.
"It's a tough task when you shoot like, 25 percent," said Jarrett Allen, Brooklyn's center. "That makes playing defense much harder."
Brooklyn's woes ended at the start of the second quarter of the Houston game, outscoring the Rockets 34-21 in the second, 25 point draw for both teams in the third, and a 20-19 fourth quarter (Houston with 20), but being outscored 42-to-20 in the first did them in, as did Harden's double-double, 44 points, 10 rebounds and Westbrook's 23 points, 9 rebounds and 7 assists.
With respect to their impressive comeback, the turnaround against the Rockets in the second quarter, Atkinson feels that the Nets haven't been playing good basketball these last few games.
"I don't think we're playing very well. That's the second game in a row where I feel like we're out of sync. I don't know what it is. We're just not in rhythm right now, especially offensively."
How long will Atkinson feel this way? We'll see. The Nets play their first game of the new year tonight, Thursday, on the road against the Dallas Mavericks and return home to play the Toronto Raptors on Saturday, then catch a flight to play the Orlando Magic on Monday completing the week with home games against OKC on Tuesday and the Miami Heat on Friday.