Young Black hoofer holding it down in Dorrance Dance Company
Zita Allen | 1/2/2020, midnight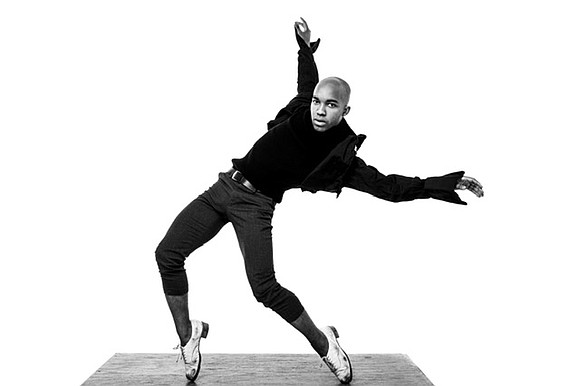 Byron Tittle, a young tap dancer with the Dorrance Dance, the critically acclaimed tap troupe headed by MacArthur Award winner Michelle Dorrance, wants everyone to know about the innovative version of "The Nutcracker" the company is performing at The Joyce Theatre during its three-week engagement, Dec. 17–Jan. 5.
In fact, Byron is so excited that, during an 8:30 a.m. interview just before rehearsal, he talks fast and answers questions without skipping a beat. "I've been with Michelle's company since 2012, but I have known her since I was eight-years-old. She taught tap at New York's Broadway Dance Center and I was a part of a summer youth program. As a teacher, Michelle was so exuberant and exciting, and her love of the art form was so obvious."
Byron says his own love of tap began, "when one of my teachers showed me a lot of footage of tap dancers that looked like me, Black male tap dancers, folks like the Nicholas Brothers, Honi Coles, Bunny Briggs—all of those great artists who danced so easily and effortlessly it was like they were having a conversation." Byron says that's what happens with Dorrance Dance. There's something else the old-timers did that Byron says is part of dancing with Dorrance. "The tap dance community is a community and there is so much love that regardless of race, gender, or sexual orientation, as an LGBTQ person, I've always been accepted because we have so much love and support for each other."
Dorrance, you see, is one of a number of white dancers practicing an artform intricately intertwined with the history of a stolen people, a brutal history, a culture transformed in America's pressure cooker where West African music and a dance mixed with other cultures' jigs, step and clog dances and such, creating a unique fusion of movement and rhythm. In its heyday, tap, like so many dance forms, both concert and vernacular, with powerful African roots, stole centerstage and caught on like wildfire. It became immensely popular and the careers of legends like Bill "Bojangles" Robinson and Fred Astaire speak volumes about both tap and racism's impact on culture in America. A couple of decades ago, when I interviewed Black tap legends Honi Coles, Buster Brown, Peg Leg Bates, Marion Coles, Henri LeTang and Pete Nugent (who, back in the day, actually taught classes at the Dance Theater of Harlem), and, more recently, Maurice Hines and Savion Glover, their love of the artform and their determination to keep it alive was a dominant theme. They wanted to know that a young generation of Black hoofers would follow in their footsteps. Byron Tittle clearly seems on his way to doing just that by performing with Dorrance Dance.
Described as a rare artist who makes dances as innovative as they are engaging, Michelle Dorrance last captivated audiences with a smash-hit Joyce Theatre season back in 2017. Now, she and her energetic band of hoofers are back just in time to ring in the New Year with a jazz-infused program. Each of the three-week programs will be slightly different but each features Dorrance's quirky spin on that holiday staple, "The Nutcracker." Instead of using the traditional Tchaikovsky music, Dorrance set her dance to a Duke Ellington and Billy Strayhorn score.