'AfroPoP: The Ultimate Cultural Exchange' back for 12th season with 'My Friend Fela'
NADINE MATTHEWS | 1/9/2020, 11:37 a.m.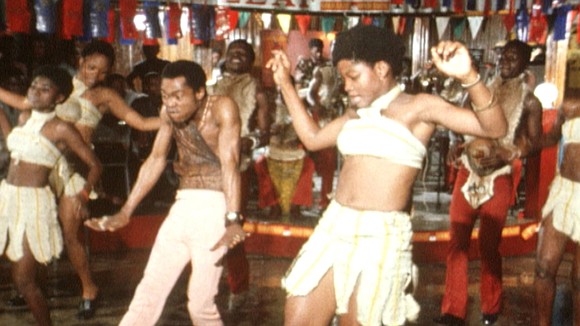 Some people bifurcate stages of their lives into "before and after" a significant milestone. Judging from the interviews in the new documentary "My Friend Fela" directed by Joel Zito Araújo, international music legend Fela Kuti's life can be divided into who he was before and after the death of his mother, who had in her youth been a leader in the African anti-colonialist and feminist movements. According to the recollections of his friends, Fela's personality changed drastically after this tragedy.
"My Friend Fela" is the premiere film in the upcoming twelfth installment of the terrific annual series "AfroPoP: The Ultimate Cultural Exchange." The acclaimed documentary film series, produced by Black Public Media and co-presented by distributor American Public Television, premieres on Martin Luther King Jr. Day Jan. 20, on WORLD Channel at 8 p.m. ET/10 p.m. PT and will present new documentaries each Monday night through Feb. 17.
Grabbing viewers by the hand and guiding them through several intriguing stops including Brazil, Nigeria, Turkey, South Africa, the U.S., Liberia and beyond, "AfroPoP: The Ultimate Cultural Exchange" remains the nation's only public television documentary series dedicated to life, art and culture from across the African diaspora. The films of AfroPoP season 12 will also be available for streaming on worldchannel.org beginning on the day of their broadcast premiere.
Seen through the eyes of Fela's good friend and biographer Carlos Moore, "My Friend Fela" unflinchingly chronicles Fela's complex personal relationships and how they influenced him and his musical and political evolution, beginning with his ten-month stay in Los Angeles in 1969, through his untimely death in 1997, the cause of which has been heavily disputed in some circles.
Moore anchors the ninety-minute film, gently ushering the viewer through a series of informal interviews in living rooms, bedrooms, on verandas of Fela's friends, lovers, family, and some of his 27 wives. There's also ample archival footage of them in Nigeria during the '60s, '70s, and '80s.
A former friend and lover of Fela, activist Sandra Izsadore (fka Smith), adorned in the white dotted face paint traditional to some African ethnic groups, draws a picture of the world that startled Fela when they met at the infamous Ambassador Hotel in 1969; that of Black Pride, dashikis, black leather jackets, big afros, and raised fists.
His closest confidant while he was in Los Angeles, Izsadore played the most prominent role in awakening Fela's historical and political consciousness and his sense of connection with other Blacks in the diaspora. Fela once told another publication "Sandra was the one who opened my eyes. For the first time I heard things I'd never heard before about Africa! Sandra was my adviser. She talked to me about politics, history. She taught me what she knew and what she knew was enough for me to start on." It was also a world that ignited Fela's Trinity School of Music trained imagination and would power his creativity until the end of his career.
Wiry in build and standing at just 5' 7" with a visage that could easily cast a mold for a Benin Bronze, Fela ended his U.S. sojourn and went on to found and pioneer the Afrobeat musical genre along with collaborator and drummer Tony Allen. A combination of jazz, funk, highlife, and traditional West African music, Afrobeat is marked by infectious rhythms that compel the listener to move.