Atlantic Theater production touches the truth and the heart!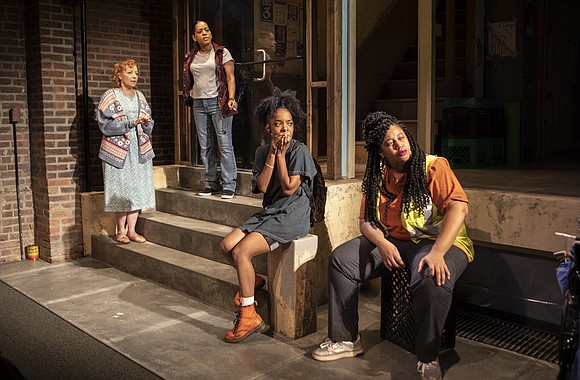 Theater that is a reflection of life is captivating to watch! It is funny, it is real, it is moving, it is sad, it is stirring! That is the theater I experienced this past weekend as I watched the Atlantic Theater Company production of "Halfway Bitches Go Straight To Heaven," which (unfortunately, this was the closing weekend) played at the Linda Gross Theater on Manhattan's W. 20th Street. Co-produced by LAByrinth Theater Company, this play, written with vivid accuracy by Stephen Adly Guirgis and splendidly directed by John Ortiz, let audiences see into the life of women in a halfway house. You got to know the clients, the staff and the issues that each person faced.
Watching this play was especially poignant for me because I have had a day job in a MICA (Mental Illness and Chemical Abuse) shelter for homeless women and I saw how the clients acted, the issues they had encountered and the way they carried themselves, and Guirgis captured women in this situation to a T.
Guirgis' characters were all well developed and represented real people you would find in these facilities, like Wanda, the ill, elderly woman in a wheelchair with marvelous stories to tell and wisdom to impart on the younger residents, but who is also slowly killing herself by not nourishing her body and is constantly experiencing severe depression. The facility, located in a wealthy part of Manhattan and unwelcome by its affluent neighbors, is home to Sarge, a lesbian, war veteran, alcoholic who is dealing with emotional issues and who is in a relationship with single mother to a baby boy, and former drug addict, Bella. There's Melba, a ninth grader who's been through things no young girl should ever have to experience, but who despite this is an A student and creates stellar, powerful poetry. Munchies, an ex-con, is promiscuous and has serious anger issues. Queen Sugar, also an ex-con, is trying to better her life, but gets involved in a scam to make money. You can sense the desperation of her character. Rockaway Rosie is a white woman who has been used and abused by her lover and has chosen to cut herself off from the world. Betty Woods is an obese writer that doesn't bathe because she can't stand to expose her body, even to herself. Happy Meal Sonia is a Latinx woman who refuses to take her medication and lives in the facility with her adult daughter, Taina, who stays by her side to take care of her. Taina devotes her life to her mother, who used to abuse and neglect her when she was a child; Sonia, who would go out to have sex for money to get drugs, would leave her chained to a radiator. A teenager named Mateo is there with his dying mother because he is too young to be on his own. Venus Ramirez is a transgender woman who has suffered violence at the hands of family members. Staff-wise, the program has Miss Rivera as the director, a woman who works 80 hours a week, neglects spending time with her own daughter and fiercely advocates for her clients and her program. Father Miguel is a gay priest who helps the clients and teaches them self-defense. Joey is the ex-con janitor with a lot of women on the side plus a wife, kids, and Venus. Jennifer is the white staff member struggling to get the clients to listen to her, who must adjust her approach and not come off as condescending. Then there is Mr. Mobo, a counselor who is concerned for the clients, enforces the rules, tries to get the clients to comply and not do things to upset the community, and who doesn't want them there in the first place—and who, oh yes, also has sex with one of the clients.