Congressman Rangel still roaring, speaks on Iran, impeachment, Lewis, Conyers and Cummings
Herb Boyd | 1/9/2020, 10:56 a.m.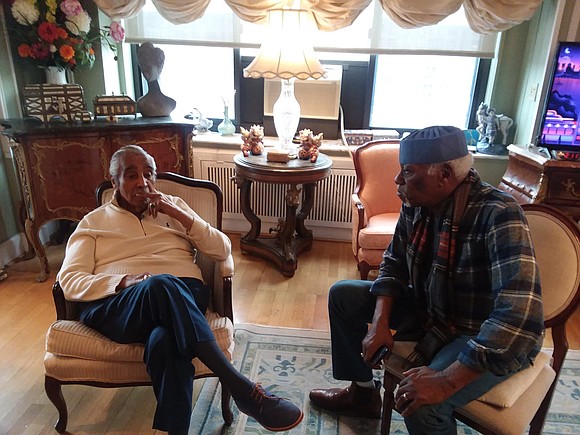 It's been almost three years since former Congressman Charles B. Rangel represented his beloved Harlem community, but he has lost none of the eloquence and insight or vigor that characterized his long and productive political career. In 2017, the nation and Congress heard the last roar from the Lion of Lenox Avenue, one of his monikers, and he told his constituents upon retirement, "Thank God I never had to decide between doing the right thing or being defeated at the polls."
God would be evoked a number of times during a recent interview at his home in Harlem where he reflected on his life, legacy, and the current chaos and turmoil of the Trump administration. But first there was a moment of memory for his fallen colleagues John Conyers and Elijah Cummings and the ailing John Lewis. "Yes, Reps. Conyers and Cummings were my friends and partners, and of course my prayers go out to Congressman Lewis who has been a courageous freedom fighter throughout his career."
Several hours after the interview while I was working on the
story, television stations were interrupted to report that Iran had unleashed a shower of missiles on U.S. bases in Iraq. Rather than completing my article, I quickly called Rangel to get his comments on the recent developments some of which he had anticipated during our interview. We decided to wait until Wednesday morning for a follow up interview since things were still evolving.
"This retaliation is something we expected," Rangel said on Wednesday morning. "It was clearly a warning shot and it could have been worse. I am pleased that the retaliation was so thoughtful and letting the U.S. and its allies know that they have the potential to do much more."
The earliest reports indicate there were no U.S. soldiers killed in the attacks, though it remains an ongoing investigation to determine the extent of the damage. Meanwhile, Trump tweeted "All is well," after being briefed on the attacks that came in retaliation for the killing of top Iranian General Qasem Suleimani in an airstrike in Baghdad. Trump later said that Iran was apparently "standing down." How the current standoff will impact the impeachment process was another question posed in the aftermath of the attacks.
"There is no doubt that," Rangel said, there are too many Americans, particularly those who support Trump, who do not understand the implications of a potential war nor do they have a grasp of international politics. "More lessons are sure to come during the impeachment and there's a good chance that more information will be divulged from witnesses as well as the ongoing investigation. And there is the possibility that more Republicans will voice their concerns."
He said that just because there is an impeachment in process does not mean that all the investigations stop. "Don't forget the findings that came after Nixon was impeached and the discovery of the tapes and all," he added.
Although he has retired from Congress, Rangel still pays close attention to political developments, and continues to be outraged that the religious community has been so silent on current affairs, so reluctant "to stand up and speak out about a range of issues that beset us," he said. "And that goes for all the religious groups, and there is no need for me to name names. They know who they are."