SS'20 makeup tips…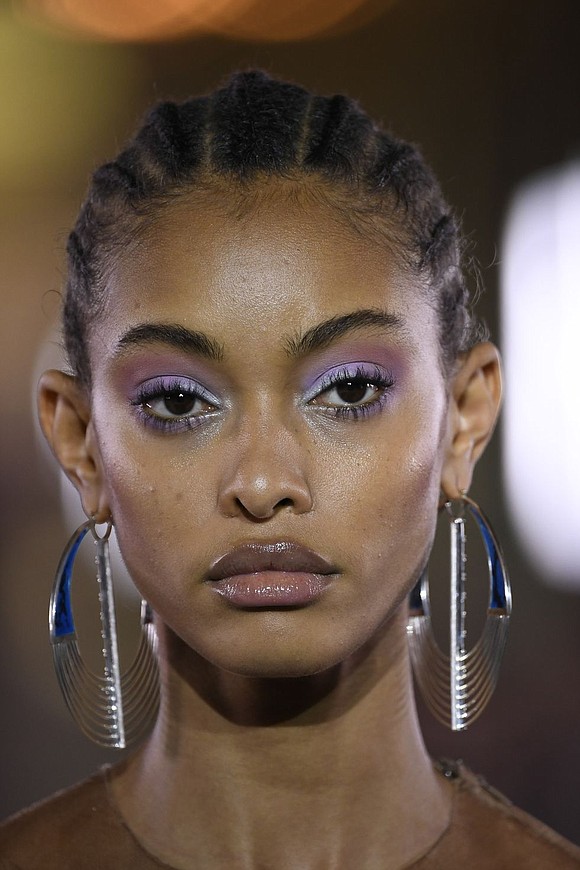 At the shows, you're looking at the clothes and how the makeup complements each outfit. Keep in mind the total picture. Try new looks in makeup. Adding a bit of color on your eyes makes them pop. More women are wearing eyelashes during the day. Most women (me) can't live without lipstick. On the runway, it's all exaggerated with major details of face painting and techniques. It's also a good idea for you to walk up to a cosmetic counter (at Macy's or Sephora) and let a professional show you how to apply your makeup. While putting their looks together, designers must think about the total look which always incorporates hair and makeup. Not every look may work for you, but here are some new tips to consider to spice up your every day and evening looks for the New Year!
Monsur Gavriel faced his models with creative blue and white eye shadow. Off-White's brand focused on glittery eyes. Smokey eye shadows in layered dimensions were spotted at Guy Laroche's show in Paris. Silvery colors on eyelids peeked out from behind his models' sunglasses.
For extra luminosity, there was a smattering of gold beige shadow pressed right in the inner corner of the models' eyes at Mui Mui's NYFW show. Her mannequin's short-cut afro with side part was also very attractive, as it offered a modern trend. Here, lips were berry stained to complete the look.
Famed makeup artist Pat McGrath created the makeup looks for the Anna Sui show at NYFW. MacGrath enhanced eyes with a bright painterly look. At Khaili's presentation, the cosmetic look was 'no fuss.' An Uphighter worked well on the model's face before the artist added a foundation. The pearls adorning a model's hair looked absolutely beautiful.
LaQuan Smith focused on a dramatic deep blue eye shadow for her model's feminine cowboy outfit. At Pyer Moss, make-up expert Daniel Sallstrom painted each model's face with shimmering burnt coral red and added a metallic fiery pink.