Imam Rafiq Rasul joins the ancestors
AUTODIDACT 17 | 1/16/2020, 12:51 p.m.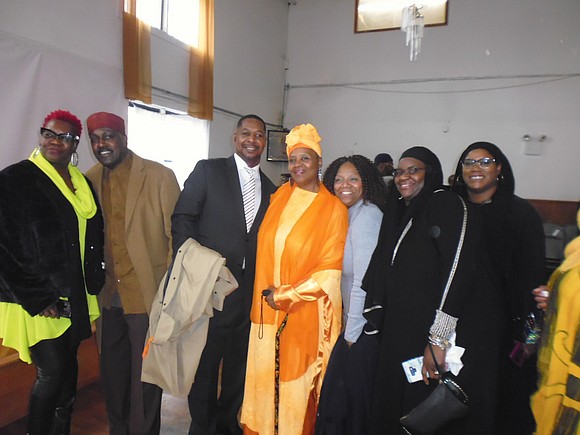 The local Islamic community was deeply saddened upon hearing the news that Imam Rafiq Rasul passed on Saturday, January 11, after dealing with several health issues throughout the past few years. A host of relatives, friends and comrades attended his janazaa on Tuesday morning at Brooklyn's Masjid Abdul Muhsi Khalifa.
He is recognized as a legend in two worlds. Often incorrectly regarded as being one of the co-founders of the Harlem-based Five Percenters, he was actually one of its first initiates. Also, as being an Imam in the orthodox Islamic faith for several decades, he is well respected in those circles as well.
Born Eugene White on November 5, 1944 in Trenton, N.J., he migrated to Harlem's Grant Houses during the early 1960s. While being involved in a dice game in the streets he befriended Brother Clarence 13X Smith during spring 1963. Soon thereafter he changed his name to Ebeka, studied his lessons and was responsible for being one of the building blocks of the youth group.
For many years he and his brother Saladin were well respected men of honor who dealt with Islam. Ebeka joined the Nation Of Islam's Mosque No. 7 in 1970 "because I wanted to see for myself what The Father was learning when he was in there. He told me to go there for some discipline if I ever needed it."

He was locked up in 1970 for a murder, during a time when many Black community leaders were being taken off the streets and framed by government officials. During the 1971 Attica Prison Riots he was regarded as a very important individual who helped maintain some semblance of peace while quelling the unrest.
While in the belly of the beast he converted to orthodox Islam and quickly mastered the Quran, eventually becoming an Imam, and is recognized as being responsible for helping guide and influence thousands throughout their Islamic journey.
Upon his 1998 release from prison he quickly wove into NYC's Muslim community, as well as regularly attending many Five Percenter functions.
Kareem Muhammad, who grew up in the Grant Houses with Rasul, stated, "A great man and leader. One of the best Imams ever."
Rasul is survived by his wife Amina, five of his six children, a host of grandchildren, nephews, nieces, friends and many loved ones.