Nets host the league's most notable stars with Kyrie in the line-up
Vincent Davis | 1/16/2020, 5:05 p.m.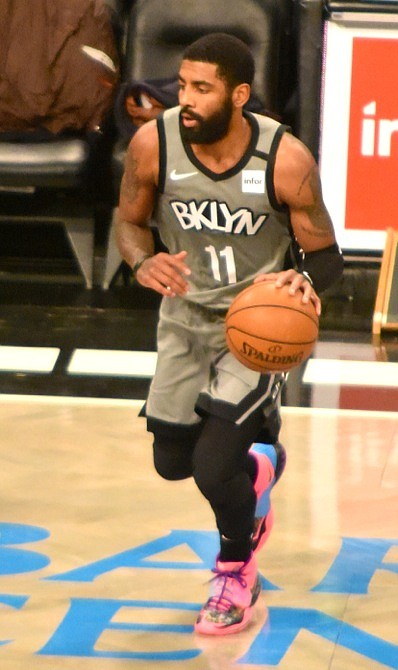 A road game against the Philadelphia 76ers last night, the Milwaukee Bucks at Barclays on Saturday, the Sixers again Monday followed by the Los Angeles Lakers, also home games at Barclays, allow the Brooklyn Nets relief from what can be a crazy NBA travel schedule. It also allows them more time to prepare, focus on defending against three of the league's best teams, back to back to back to back.
"It doesn't really matter," said Kenny Atkinson, Brooklyn's head coach. "I don't really look at the jersey," referring to the uniforms of his opponents. "I just make sure we're prepared to compete at a high level."
A high level for sure. The Nets are matching up against Giannis Antetokounmpo, Khris Middleton, and former Nets player Brook Lopez for Milwaukee, currently in first place in the Eastern Conference.
Philly brings in Ben Simmons, Al Horford and Tobias Harris who grew up playing ball here in New York City. Joel Embiid is out due to a finger injury to his left hand. His inability to play has been a further strain on Philly's win totals. They've fallen to the 6-seed in the East.
The Lakers, in first place atop the Western Conference, bring in LeBron James and Anthony Davis, both top 10 league scorers.
"I'm focusing on the Nets and us improving," Atkinson emphasized.
Brooklyn has fallen to eighth place after their seven game losing streak which ended last week with a 117-113 win over the Miami Heat. They hadn't won a game since December 21.
"We needed one," said Jarrett Allen. "Just to get back on track, back on the rails." Brooklyn not only won, ending their consecutive losses, they ended it defeating a top 3 team. Allen noted that the win shows that, "we can play with anybody."
Brooklyn also has Kyrie Irving back. Their point guard who sat out the last 26 games due to an injury to his right shoulder, dropped 21 points in 20 minutes in his surprise return on Saturday against the Atlanta Hawks, a 108-86 Nets' victory.
Based on Irving's press conference last week, it could've been assumed that he'd need more time before he was capable of playing.
Irving returned to full practices and the starting line-up alongside of Spencer Dinwiddie after getting a cortisone shot on Christmas Eve.
"I love the game," Irving said to the remaining audience after their blowout of the Hawks. "I missed it so much."
In his second game back against the Utah Jazz on Tuesday, Irving scored 32 points with 11 assists.