Talking SCHOP! Still feeling like Aaaay…TL!
Kysha Harris | Food Editor, @SCHOPgirl | 1/16/2020, 12:28 p.m.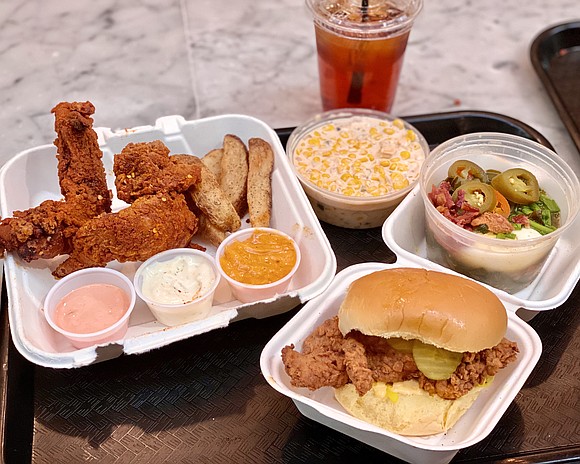 Last I left you in Atlanta with an award-winning ramen spot, E Ramen, for which I still have visions of their signature ramen in my head. Alas, there were many other great food experiences in the city and in the studio too.
If you do not know, producing a half-hour game show is an intense time between all of the players and moving parts. Without some bastion of surprise or break in the routine, it can get a little monotonous. Enter the exceptional Atlanta based Turner Studios support staff who brought the joy to the studio when we could not go find it.
Big thanks to LaTasha and her team for everything and to the following food artisans: Crepe Masters (facebook.com/crepemasters) for that freshly prepared Florentine crepe filled with chicken sausage, mushrooms, onions, provolone, spinach and tomato topped with homemade pesto; Smooth N Groove (@smoothngroove1) smoothie truck for my Nae-Nae fruit smoothie; Sweet Hut (@SweetHutBakery) for gorgeous and delicious Japanese world-flavored pastry, specifically that Caterpillar with the silky whipped cream filling. Look out for all of them!
On one of my many visits to E Ramen, I asked owner, Windy for sightseeing recommendations. She suggested heading to Krog City Market for a looksee and walk the Beltline to Ponce City Market (from the same developers as NYC's Chelsea Market).
On our first Sunday in Atlanta, after locking myself in the kitchen on Saturday to finish my prep, and with my recommendations in hand, I enlisted my colleague, Alexis, to join me on the adventure. I did not know what to expect, but I know I got so much more than I thought.
From the outside, Krog Street Market area looks like a cross between a Western town studio set and a modern strip mall. Now bordering on "hangry" after doing one pass through the hall, we settled on Richards' Southern Fried (@RichardsSoFried, richardssouthernfried.com) for some hot chicken and southern hospitality.
Alexis and I sat at the counter and waited for our freshly prepared jumbo wings and hand cut fries, spicy chicken sandwich and sides of jalapeno creamed corn and, their must-have, collard green pho. That is good ol' southern greens in pot liquor, topped with pickled jalapenos, bacon, scallions and a boiled egg. Odd, yes, but trust me, it and the lot of food hit the spot.
We strolled the Beltline which resembled NYC's Highline filled with pedestrians, bicyclists and those damn motorized scooters. We stopped occasionally for picture taking, live music and beer before reaching Ponce City for some (not so) light shopping then back to the hotel.
The day was the perfect fortification before heading into the first week of shooting. I was beginning to feel like an Atlantan…
Happy eating and thanks for reading!
Kysha Harris is a food writer and editor, culinary producer, consultant and owner of SCHOP!, a personalized food service in NYC for over 15 years. Follow her on Twitter and Instagram, @SCHOPgirl, on Facebook, /SCHOPnyc, and her blog, www.talkingSCHOP.wordpress.com. Questions? Comments? Requests? Feedback?  Invitations!  Email AmNewsFOOD at AmNewsFOOD@SCHOPnyc.com. Follow us on Instagram, Twitter and Facebook @NYAmNewsFOOD and tag us with #SoAmNewsFOOD with your food finds!