Union and non-union immigrant construction workers rally for better wages and justice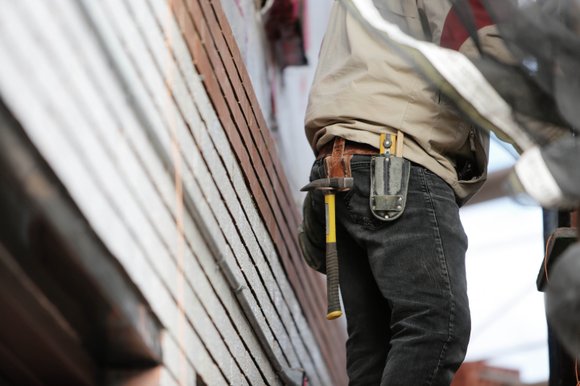 No matter their workstation, immigrants in New York wanted to show they were united against one of New York's largest construction management companies.
Union and nonunion construction workers, along with New Immigrant Community Empowerment, took to Manhattan last week to demand immigrant construction workers be paid for completed work.
"NICE is committed to organizing along with our union brothers and sisters until all workers receive the wages they are owed and until New Line Structure takes responsibility for hiring abusive subcontractors who rob workers of hard-earned wages and put their safety at risk," said Diana Moreno, worker rights director for New Immigrant Community Empowerment.
NICE successfully pressured New Line Structures into forcing their subcontractors to pay workers what they were owed. Six people were paid, but 15 laborers are still waiting for their wages. That's not acceptable to activists and advocates.
"Putting workers' lives at risk and stealing their wages should not be the cost of doing business in New York City," stated Charlie Uruchima of the New York Committee for Occupational Safety and Health. "Data from the Manhattan Justice for Workers Collaborative (MJWC) has shown that worker centers, including NICE, have reported immigrant workers being owed more than $2 million in wages across the city this past year."
The workers who came forward about their unpaid wages work at New Line's Hallets Point job site in Astoria, Queens. This isn't the first time New Line has been accused of less than scrupulous practices.
New Line, along with Civetta Construction, was investigated by New York State Attorney General Letitia James last July after a video of someone on the Court Square-23rd Street subway platform being swept off their feet by brown liquid went viral. The MTA blamed the video, posted on Instagram via the Subway Creatures account, on a construction site in the area.
The site turned out to be the Skyline Tower development in Long Island City. The water blasted through a construction wall on the platform before carrying the person on the platform into the path of an incoming train before stopping short of the tracks.
"This is an incredibly dangerous situation that easily could have resulted in the loss of a life, and we need answers," James said at the time. "These companies are hired to improve conditions without jeopardizing public safety. Yet, I am deeply concerned that instead they may have created a treacherous environment for New Yorkers in this incident."
To New York State Laborers' Organizing Fund Executive Director John Hutchings, it's more of the same to start a new decade.
"New year, new decade, same message: worker abuse will never be tolerated, and our union will always be on the front lines fighting it," stated Hutchins. "Again, I respectfully ask New Line Structures to take a step back and consider the fact that we are not simply talking about construction projects and profit margins; we are talking about HUMAN BEINGS and their ability to provide for their most basic needs and the needs of their families."