'Bad Boys for Life'—high powered fun starring Will Smith and Martin Lawrence
LAPACAZO SANDOVAL | 1/23/2020, 4:13 p.m.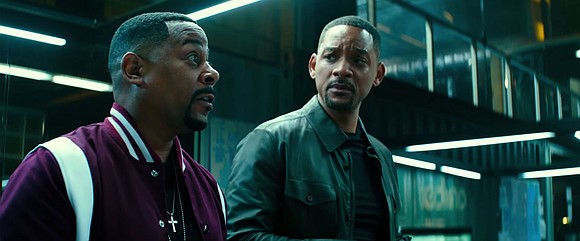 "Bad Boys for Life"—"Bad boys, bad boys, whatcha gonna do, whatcha gonna do when they come for you…?" I can't shake the sound of Bob Marley's song about the movie franchise but maybe that's why the creative team decided to resurrect the movie starring Will Smith and Martin Lawrence.
And Will and Martin bring their heat. They bring their flair and they bring their fury. The first "Bad Boys" jumped into the cultural zeitgeist in 1995. Produced by uber producers Don Simpson and Jerry Bruckheimer, "Bad Boys" was Michael Bay's first film as a director and the film made money hand-over-fist. Eight years later came the sequel, "Bad Boys II" (also directed by Bay) that didn't have the same wow as the original but it did good global box office.
You will love "Bad Boys for Life." Here's why. We begin with Smith and Lawrence as middle-aged cops with a lot of history between them—25 years to be exact. The bad guys of Miami are still up to no good. Miami narcotics detectives Mike Lowrey (Smith) and Marcus Burnett (Lawrence) have not lost their edge. The film roars open with Mike racing his sweet, blue Porsche at a speed that makes Marcus seconds away from hurling. Directors Adil El Arbi and Bilall Fallah, the Moroccon-born filmmaking team, keep the film moving.
The directing team understands how to keep the foundation of a cop movie blending it with the comedy magic between the two leads.

When the film starts we find Mike and Marcus living their lives on every different path. Marcus is now a grandfather (the two are rushing to the hospital in that opening scene), with one dream: to retire, alive. Mike has no such plans. He's fit, trim and ready and unattached. His plan for his life? To chase and arrest bad people for the rest of his life, period.
What brings the two back together is a woman, Isabel (Kate del Castillo), the wife of a ruthless Mexican drug lord the team put away years ago, and her volatile son, Armando (Jacob Scipio). The mother and son are evil. Evil and have made it their life's mission to revenge anyone involved in the case. No one is safe. Not judges. Not forensic investigators and not Mike. I don't know what kind of mothering Isabel provided but her son, Armando, is a sociopathic killing machine that is very good at his job. He's an expert sniper and has a flair with knives, in short: he's dangerous. Mike was a sitting duck. He wounds him with a round of bullets and then (yikes) posts the bloody violence online.
Here I have to tread lightly. I don't want to spoil the surprise (it's a good one).

One of the elements that makes "Bad Boys for Life" deeper is the realization form the key characters, Mike and Marcus, that because of age all things must end.
Mike, feeling himself, wants to chase Armando alone (not a smart idea) but he's saved from his own stupidity. Circumstances force Marcus back into the mix and he is joined by
a special tactical police squad known as AMMO, led by Mike's former love Rita (Paola Núñez).
Will Smith hasn't aged a day (Black don't crack) but he plays Mike with a wiser, older edge. Martin Lawrence brings a nice layer to his character. At first, we think he's lost his spark but no, oh no, he's just keeping it tight, waiting for the right time. And as this fast-moving film roars to life, Marcus roars right along with it!
And then the unexpected twists and the third-act reveal work to give an audience a full movie experience. "Bad Boys for Life" is four stars. Go. Spend your money, give your time—you won't regret it. It's high-powered fun loaded with heart.