Egypt––the amazing adventure
SHERYL NANCE-NASH | 1/23/2020, 7:53 p.m.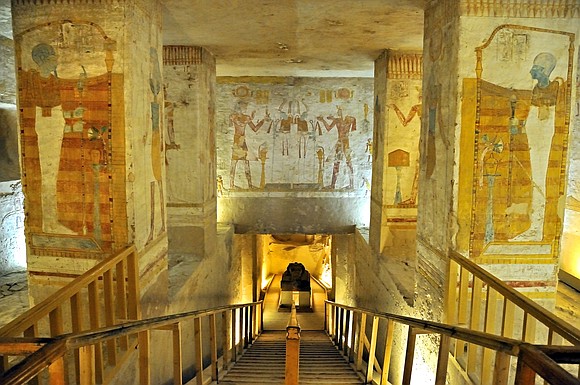 Every now and again you experience something that changes you forever. A river cruise down the Nile will do just that.
Egypt has a certain mystique with its ancient history, gods and more mysteries than you can begin to unravel. You've heard a few tales, be it in Sunday school, the movies, books or a classroom or two. But nothing, absolutely nothing prepares you for the amazing adventure that awaits you.
You want to do this trip right. Go for an intimate river cruise on Aggressor Adventures Nile Queen. It's a 16-passenger river cruise vessel with five-star service that is beyond impressive. You'll be treated royally, like those in the stories of ancient kings and queens that you'll hear about during your journey.
Fly into Luxor and check into the Sonesta Saint George hotel on the banks of the Nile. How fast can you say fab? It is that. Luxurious and so comfy you might just want to hunker down for a bit if you didn't know what you had in store after your overnight stay. It's a welcome respite after a long flight. If you don't feel like venturing out for dinner, no worries. You have a few choices. Beban is the hot spot. Not only will you have spectacular views of the Nile and the hotel swimming pool from those larger than life panoramic windows on the first floor, you'll feast on Italian specialties. Cap off your night with a cocktail at Nobles Lounge.
A guide will pick you up and take you to board the Nile Queen––your home for the next six days. Settle in your cabin, have lunch and let the fun begin. As you walk up to the Karnak Temple you might start shaking your head. The massive complex is home to many destroyed temples and chapels. The statues are surely the biggest you've ever seen. You're blown away at the fact that something built thousands and thousands of years ago is still intact, and wonder even more so, how in the world they were built with so little in the way of technology and equipment. It boggles the mind. You have to make peace with the fact that they just are, there's no logical explanation. You accept that all things are possible. And that is quite liberating, exciting. By the time you make your way to the Luxor Temple on the east bank of the Nile River, you are starting to get downright giddy. Part of this temple was built by Ramesses II. The chapels built by Tuthmose III are stunning. The six station shrines have sphinxes. It's freaking incredible.
You go back to the boat full. You're just getting started. Another day in Luxor leads you to the Valley of the Kings where you find the tombs of pharaohs like Tutankhamun. You make your way through the Hatshepsut Temple, Valley of the Nobles, Colossi of Memnon. Each is more incredible than the last. What has been preserved is remarkable. The walls tell stories of ancient life. In some tombs the color is so well preserved that you won't believe it was done more than 3,000 years ago. You may feel a little something-something as you spend time in the tombs. Soak it up.