'Theater Talks' at the Schomburg: riveting and illuminating
Linda Armstrong | 1/23/2020, 5:19 p.m.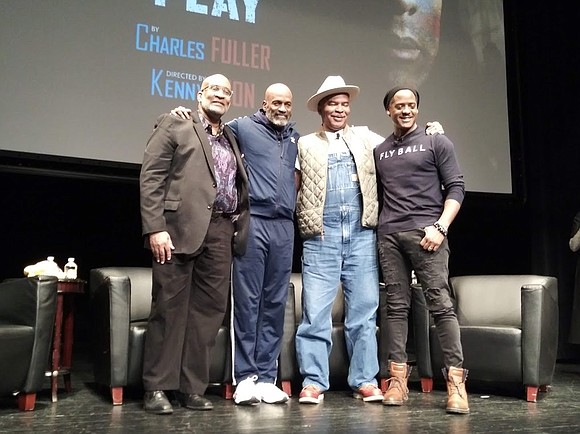 The Schomburg Center for Research in Black Culture, a vital institution located at W 135th Street, opened its Winter 2020 season with "Theater Talks: A Soldier's Play." The panel was moderated by NYU associate professor, playwright, and dramaturg Michael Dinwiddie and featured panelists who included Broadway director Kenny Leon, and show stars David Alan Grier and Blair Underwood. Charles Fuller's "A Soldier's Play" is being presented at the American Airlines Theatre on W. 42nd Street and is a Roundabout Theatre production. Opening on Dec. 27, it will play through March 15, 2020.
It was wonderful to be in the audience of this free event and witness Dinwiddie asking Leon, who is nothing less than a brilliant director—about working on this project. Then to also hear extraordinary actors Grier and Underwood talk about this very meaningful, well-known and well-loved play. Grier portrays Sergeant Vernon C. Waters and Underwood, Captain Richard Davenport—the lawyer who tries to find out who murdered Sergeant Waters.
Dinwiddie started the panel off with humor asking his panelist what they have done that they are not proud of. Grier recalled, "I was a grape in the Fruit of the Loom commercials." The audience burst into laughter. Leon shared that he was in the "Heat of the Night" three times and he was killed three times. Dinwiddie had everyone laughing when he shared that People magazine named Leon one of the 50 most beautiful people in the world.
Dinwiddie asked Leon why he chose "A Soldier's Play" now? "As Black artists we have a responsibility to go back and make work fresh for a new generation. I met the playwright last year in Canada, he's 83 years old, he won a Pulitzer Prize, I said, Mr. Fuller, why this play? What do you want the audience to feel? Anger. I'm still angry. I'm angry because I served in the army, many of my buddies died in the army and you still can't walk through America as your true authentic self. From that moment I said I'm going to design a production that honors that. So when you see, this production, it's not like just recreating what was done by the Negro Ensemble Company in the early '80s and we're honoring that because we couldn't be where we are without them. But, here you'll look at it through the lens of 2020. It's written in 1980, took place in 1944, but you see it now. Sitting there you see what's happening in the world now, young men being killed in their cars, the unjust things happening in the military."
Grier had been in the Negro Ensemble Company's production and played C.J. Memphis. He talked about seeing the production and recalled "what was amazing about this play is that you had different Black men, all shapes and sizes and most importantly different voices, different political points of view, it was amazing."
Addressing Underwood, Dinwiddie stated that he comes from a military family, with his Dad being in the service. What about that did he bring to the role? "I watched my Dad, be my Dad and then put on his military uniform and be a naval officer. Taking on this role, I saw my Dad just sitting in the backyard and chilling, but when he put on the uniform he was different, in the military it's about how you walk, how you talk," Underwood recalled.