GGG Hyacinth Bourne,103, makes her transition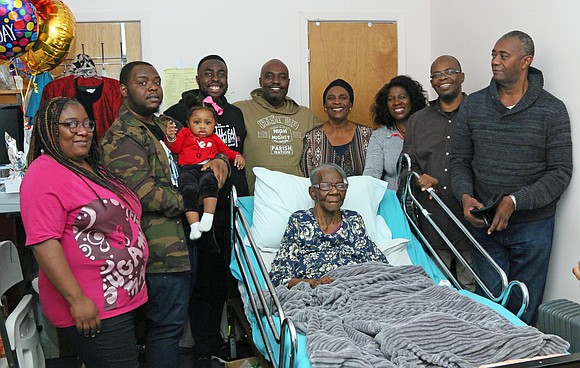 Great-great-great Hyacinth Bourne,103rd made her transition just one month after her 103rd birthday, in Bed Stuy Brooklyn on Sunday, 26th, January, 2020.
On November 18th, 2020, four generations of this proud Guyanese-American family filled the Bed Stuy home that to enjoy family, every kind of deliciously familiar, back-home dish imaginable, and a huge birthday cake.
Greetings and family came from all over the nation and globe, including many of her eight children, 25 grandchildren, 53 great grands and 21 great-great grands.
"Grandma died in her sleep on Saturday night," her great grand-daughter Charity Aileen Alyssa told the Amsterdam News. "That afternoon she said she was going, and me and my cousin held her hands. I said, 'Call me if you think you are going.' But, she died in her sleep that night. I will always cherish the memories we shared together."
"Mommy had called everybody to come and see her for the last few weeks," Bourne's daughter Claudette McCloggan told the Amsterdam News on Sunday morning. "She was ready to go, but it it is still hard for the family. She was the matriarch of our family. She was Mom."
McCloggan, 79, a former health care worker at the Bedford Stuyvesant Family Health Center, is something of a popular neighborhood staple herself. Wiping tears, she added, "When Mommy saw herself in the Amsterdam News on her 103rd birthday, she laughed and said, 'Look I am a celebrity now!'"
Funeral services will be held at Memorial Baptist Church (484 Washington Avenue, Clinton Hill, Brooklyn), on Saturday, February 8th, 2020. The viewing will be at 10am-1pm, and the service from 1pm-5pm.