Writer/actor/director Chris Swain: a man from the 'hood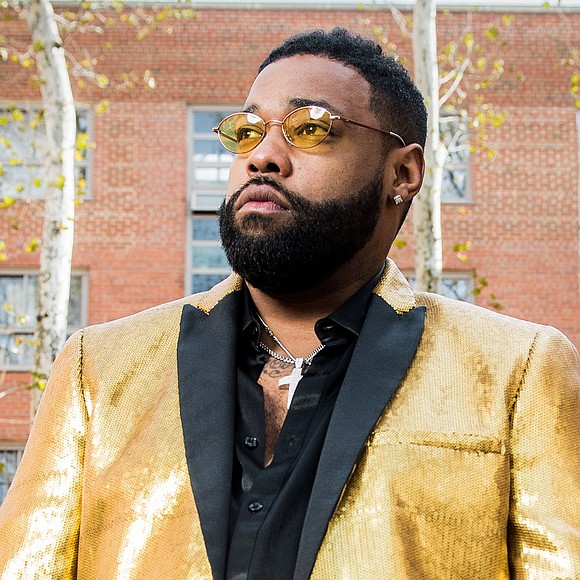 Film and television producer Michael Bregman ("Carlito's Way," "Carlito's Way Rise to Power" and "The Bone Collector")—the son of the prolific film producer Martin Bregman ("Scarface," "Dog Day Afternoon," "Serpico") and actor Luis Guzmán have turned their creative attention and business savvy toward the actor, writer, director Chris Swain.
Swain's a child of the hood––Harlem and Mt. Vernon to be exact. What most people read about he's witnessed first-hand and he's still standing. He's been breathing fire for a long time and he's transferred that nuanced vortex of power into his creative work as an actor, director and writer.

Swain has been featured in series television and national brand commercials including Optimum, Macy's and Tippie Toppy. Is Swain following in the steps of creative powerhouse and entrepreneur Tyler Perry? Perhaps. And, like Perry, Chris has written and directed a play, "The First Lady," which has toured around the U.S. to sell-out audiences.

Now Swain is directing his attention to developing his off-network television pilot "Deep," which won "Best Picture" and "Best Director" at the Mount Vernon International Film Festival. "Deep" also won "Best Pilot" in the La Film Awards and was nominated for "Best Pilot" in the Orlando Film Festival. Keeping his fingers in the community, Swain has been training children in the Bronx for over four years and has taught acting and is currently a theater instructor at The Children's Aid College Prep Charter School.
AMSTERDAM NEWS: How did you meet producer Michael Bregman?
CHRIS SWANN: I was looking for a producer to help me get my project "Deep" off the ground. I had just done a successful festival run and I was stuck. I was literally stuck. I just started randomly networking trying to see where I could end up, and I ran into this guy named Ruben Riveria. Ruben is a very well connected guy in the industry, and he watched my sizzle reel of the show ["Deep"] which is the first five minutes of the show and he responded immediately. He said, 'What is this?—where can I get more of this?' and when can I sit in front of you? We connected and I showed him my pitch book and everyone in the industry that has seen this pitch book has been amazed. He took the pitch book home with him and it was there that Michael [Bregman] saw the book and wanted to meet me. Ruben made that meeting happen.
AMN: Michael Bregman has a tremendous eye for material and breaking new talent. I met Michael when he was John Leguizamo's personal manager and we all know what happened with John's career and he's still Luis Guzmán's manager to this day. How did you get him excited? The man does not excite easily.
CS: After he looked at my pitch book for "Deep," we met and chopped it up at a restaurant called Sweet Chick, downtown, and we talked and talked and talked. 
AMN: Michael talks? What? I don't remember Michael talking. 
CS: (laughing) Yes, he talks. We got familiar with each other and got to working. 
AMN: Describe "Deep," please.
CS: "Deep" is about an epidemic that is happening silently. Fentanyl (a powerful synthetic opioid that is similar to morphine but is 50 to 100 times more potent) is killing people. Fentanyl is destroying and it's doing it in an almost unexplainable way. A small, small piece of something will kill you.  
AMN: It's so potent you can't have it on your glove it's so lethal. 
CS: Exactly. And these people are injecting this into their veins. The large percentage [of addicts] don't know what they are injecting because they think it's heroin. That's what ["Deep"] this project is based on. The drug dealer side and the addict side.
AMN: "Deep" is looking at the killer Fentanyl from the addicts side and the drug dealer side? Powerful and yes, this sounds like a Michael Bregman type of project.
CS: (laughing) Yes, and you always have to have your cop in there —and the cop is a drug dealer. I can't reveal everything. I didn't want to tell the story of cops and robbers. I didn't want to tell the story of the robber and the victim. I think that's dark and I think that's what we need right now. 
AMN: Drugs in the U.S. is a tricky thing. It's about money, paper and money isn't even real. It's just paper.
CS: Not even real and you can't do nothing with money. That's the funny thing. You can't do anything with money. You can survive but how long does the dollar live? The dollar doesn't live for too long. That's what "Deep" is about.  
AMN: Where does "Deep" take place, location wise?
CS: Harlem and Mt. Vernon. 
AMN: So you are from the 'hood?
CS: I'm from the 'hood. Do you know when people come together?
AMN: I do not. Tell me.
CS: People come together at funerals and that's about it. Even people that don't like each other come together at funerals. People who don't like the person in the casket go to the funerals. 
AMN: So "Deep" does not shy away from the violence and brutality ?
CS: No, it does not. If you want to talk about something that is killing people and you preach at them, they will walk away. But if you tell them a story people might listen. 
AMN: Gosh, I almost forget to ask. I notice that the Puerto Rican actor Luis Guzmán is listed, along with Michael Bregman, as an executive producer. How did this connection come together?
CS: Michael [Bregman] brought him in and me and Louie, connected. He got it. 
AMN: So what's next for "Deep"?
CS: We are putting together a full package. When we pitch to television and other platforms we want the full seven seasons. 
AMN: So you have the vision? What's next?
CS: Yes, I have the vision. Next is looking for a show-runner.  
AMN: This is an exciting world to take a peek into. Drugs dealers and addicts dealing with the reality of life on the streets of Harlem and Mt. Vernon. 
CS: I'm from this world. I'm from this. I come from a life of being involved with gangs and being involved in the streets. I know "Deep" because I lived it. I am able to tell real stories. I act, write and direct. I'm ready. "Deep" is ready.
AMN: I'm excited to be a part of the progression of "Deep". Keep us posted. 
CS: No doubt.