Harlem playwright's award-winning opera depicts effects of police brutality
NADINE MATTHEWS | 7/2/2020, midnight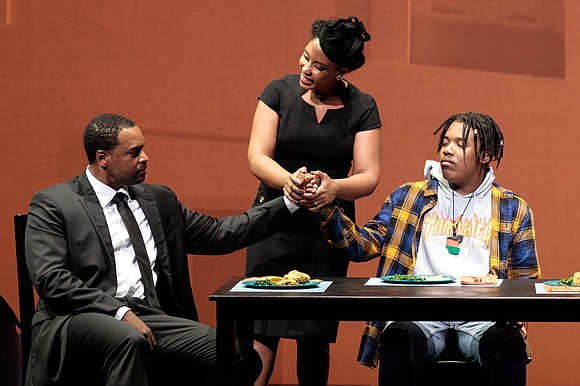 More than a month prior to the wrenching viral video of George Floyd being killed by Derek Chauvin, which caused worldwide reverberations to our social fabric, the prestigious Music Critics Association of North America (MCANA) decided to grant Playwright and Director Tazewell Thompson the award for Best New Opera for "Blue," a production for which Tazewell made his debut as a librettist. His co-recipient was the opera's composer Jeanine Tesori. The decision wasn't announced though, until early June.
A lifelong Harlemite, Thompson told the Amsterdam News, "It's a theme and a subject that unfortunately, will always be relevant. I'm excited and happy that 'Blue' has been this major triumph. It's just extraordinary. I'm hooked now, I'm ready for my next opera!"
MCANA's Best New Opera award was created in 2016 to honor musical and theatrical excellence in a fully-staged opera that received its world premiere in North America during the preceding calendar year.
With a title whose simplicity is dramatically contrary to the weight of all it symbolizes, Blue tells the tale of a Black American family––with a policeman as its patriarch––rocked by the murder of their teen son by a fellow officer.
The New York Times' Anthony Tommasini wrote that "Blue" featured "one of the most elegant librettos I've heard in a long time." It got similarly high praise from Soraya Nadia McDonald of the sports and pop culture website The Undefeated, saying it "demands a place in the American operatic canon."
Almost no one has gotten to see "Blue" since it made its debut at the Glimmerglass Festival in Cooperstown, NY last summer. "When the coronavirus hit, it was about two days from the opening at the Kennedy Center and we had to shut down," Thompson explains.
Tazewell wasn't originally supposed to be the person who wrote the opera, but was inspired with the offer to do so by the events of the summer of 2015.
"What about me?" was his response when the director of the Glimmerglass Festival emailed him that fall seeking his opinion on her list of prospective librettists for an opera dealing with "race and social justice" she was commissioning.
He states, "The first thing that came to me was the killing of unarmed Black boys and Black men. That summer was tough in terms of boys and men being killed by police officers so there was no need for me to even think about what the subject would be. I felt it was important for me to offer my voice. I didn't think of it as a cause then, or as a protest opera, but now it has become one."
Thompson has been writing since he was a teen attending the High School of Art and Design. He left his junior year after getting a part in a play on Broadway and hasn't stopped working; writing and directing plays performed all over the globe.
The compactness of writing a libretto was the biggest challenge for him. "With a libretto, you need to find a way to express the emotion but it has to be edited down because the music has to be allowed in to support and expand on the emotions' content."