Some players choose health over money in forgoing a return
JAIME C. HARRIS | 7/2/2020, midnight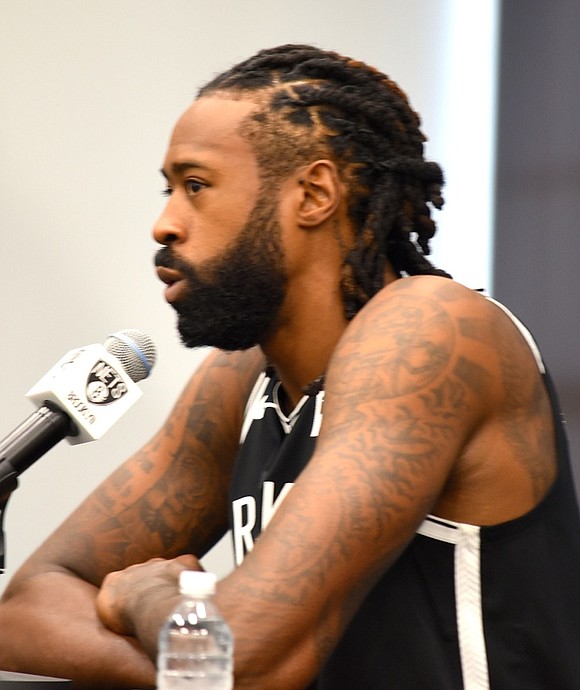 Brooklyn Nets center DeAndre Jordan, like so many of his fellow NBA players, had much to consider when the league decided to move forward with a return to competition. After suspending its season on March 11 due the coronavirus, the NBA is set to restart on July 30 with 22 teams resuming play at the ESPN Wide World of Sports Complex at the Walt Disney World Resort in Florida.
However, Jordan won't be joining them. On Monday, the 31-year-old, 12-year veteran announced he has tested positive for COVID-19 and will forgo playing at the single-site location near Orlando, where all teams and staff will be contained in what is being termed the NBA bubble.
"Found out last night and confirmed again today that I've tested positive for Covid while being back in market," Jordan wrote on Twitter. "As a result of this, I will not be in Orlando for the resumption of the season."
Nets guard Spencer Dinwiddie also tested positive but hasn't determined if he will proceed in playing. Their teammate, forward Wilson Chandler, revealed this past weekend he wouldn't be coming back. Chandler expanded on his reasoning in an appearance on The Court Vision podcast.
"For me personally, I think like the unknown of this whole COVID thing and just having a grandmother who's 87…and battling all types of illnesses and [me] having young kids, I think it's more important for me to be at home with my family and taking care of my family," Chandler explained.
As of earlier this week, the NBA had tested 302 players, of which 16 had tested positive for COVID-19. The 33-year-old Chandler, originally a first round pick of the Knicks in 2007, added that the social climate of this country, which has experienced widespread protest centered on the police brutality towards Black men and women, also factored into his decision.

"And then if you throw in the whole social justice [movement] and everything that's going on over police brutality with the government and all that, I mean, it just makes it a bit more difficult."
The Los Angeles Lakers' Avery Bradley and the Portland Trailblazers' Trevor Ariza are also among the small group of players thus far who have decided not to play. Those that sit out will not be subject to discipline by the league and will forfeit a portion of their salary.
Money is undoubtedly a substantial element of many players' strong desire to end what will have been an over four month forced hiatus by the July 30 resumption. But health and safety will ultimately be the singular determinant as to whether the NBA and Major League Baseball, which is preparing to hold an abridged 60-game season starting later this month, will make it through their potentially perilous full schedules, including the playoffs.
NBA Commissioner Adam Silver addressed this very subject in a virtual Time 100 Talks on Tuesday. "We are going to see as we go," Silver said. "Certainly if cases are isolated, that's one thing. A lot of the determination will be our understanding of how our community became infected.
"That will be part of our judgment in terms of whether we should continue. But certainly if we had a lot of cases, we are going to stop. You cannot run from this virus."