Blood on the streets: rise in violence raises serious questions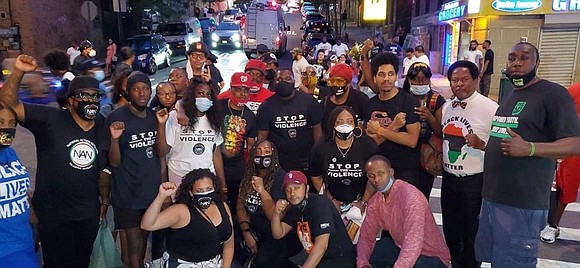 Williams responded by saying that no lack of funding or reforms should keep the NYPD from doing their job.
"But now, we hear unhelpful and unconfirmed accusations and reasonings for this violence–– whether civilian to officer, civilian to civilian, officer to civilian," he said. "To blame budget reallocations, bail reforms, or banning chokeholds is a false narrative excluding the many factors leading to this moment, including a pandemic and economic crisis which have disproportionately affected these same communities."
The AmNews spoke with National Action Network (NAN) Youth Huddle Director Ashley Sharpton and asked for her thoughts on the recent spike in violence. She believes that the rise in shootings are systemic as well as political.
"It's ridiculous what's happened politically around gun violence," she said. "Some of the officers are saying they were treated wrong by the mayor or the governor and they're not going to do their jobs because police reforms were made. I can't put the complete blame on the NYPD because gun violence is not new. The root of it is racism and systemic oppression. We have to continue to support our anti-violence organizations and we have to do our own part individually and collectively to stop the public crisis that is gun violence."
Sharpton added that illegal gun traffic is also a factor in the number of shootings. Guns are still getting into neighborhoods as they have before. She says more gun reform laws are needed.
Speaking often to youth in the community, Sharpton meets weekly with members of the NAN Youth Huddle virtually and said they've expressed the need for more mental health services. Sharpton said youth often see traumatic images of violence in the community and little is being done to deal with how it impacts them.
"Somebody needs to do something to help these young people who are seeing what's happening," she said. "How many people saw what happened to George Floyd? That's traumatizing to an 11-year-old or a 12-year-old. That happened to Black man that looks like them and there's been no accountability. The issues of mental health related to gun violence is something we are not talking about."