Jazz Notes: Live streaming jazz gallery and Village Vanguard
Ron Scott | 7/9/2020, midnight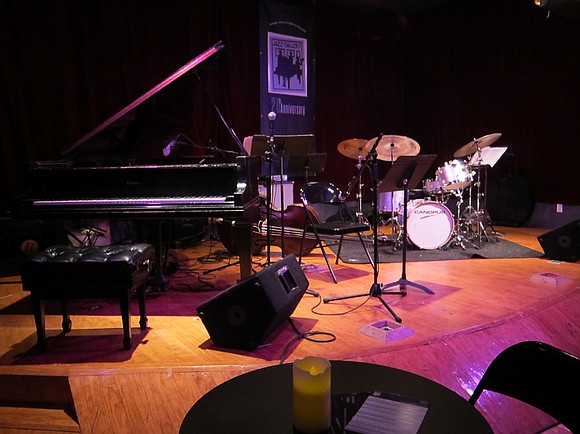 Just recently, The Jazz Gallery started livestreaming after a successful 10-week presence online (TJG Online Home Series) presenting a unique series of live performances; Happy Hour Hang, DJ Dance series, Lockdown Sessions, and Words & Music. In the midst of this coronavirus these online sets were originally set-up to retain the membership of this unique non-profit jazz organization. Since the introduction of Happy Hour Hang and the other virtual music programs the membership has increased on both a local and international level. Happy Hour presented on Zoom offers participants an opportunity to meet and chat with musicians, as well as seeing them perform.
"With the lack of live music, livestreaming is the second-best thing. But I still get worried it may affect the creativity. You can make a first impression only one time, and I don't necessarily want people to think 'Oh yeah, I heard Joel Ross. Yeah, he's cool.' Whereas if you heard him live, he'll be amazing. The internet is very personal but it gives you an illusion of closeness," said Rio Sakairi, artistic director at The Jazz Gallery. "It's like throwing a ball but it never comes back. The musicians aren't getting any feed-back while they are playing and they can't connect with the audience during a livestream. The best thing about livestreaming is it allows musicians the chance to play together again which is great."
A few friends called to inform me the Joel Ross Trio livestream was great. Not to mention the fact Ross is an exceptional young gun. Last year at both the Newport Jazz Festival and NYC WinterFest, he played with at least three different bands while also leading his own. Of course, this wasn't surprising to Sakairi, one of the most influential artistic jazz directors in this country. "Now that we have online activity, we have members in Europe and L.A., Miami, Mexico, all sorts of places. So, I'd like to keep doing things online," says Sakairi.
Sakairi has a point: livestreaming may not offer 100% performance but it is up to jazz heads to reexamine their sound systems, computers and laptops; it may be time for an update. In conversations with musicians many have invested in updating their equipment for better home performances and virtual experiences. For the best results updated equipment is required.
In moving forward Words & Music and the Happy Hour Hang will continue but only once per week as opposed to its original three days; the DJ dance party will be discontinued. "Now that it is summer more people are staying outdoors longer," says Sakairi. "But we will continue the Lockdown Sessions that include four artists; usually three established musicians and one young artist." For me this is the most significant and exciting musical experience online. Each artist appears from their home with a music performance video made in advance that is discussed afterwards with Sakairi and Edward Gavitt, The Jazz Gallery house manager.
Recently, the drummer Jeff "Tain" Watts included a cooking segment with his two young daughters adding their talents as dancer and pianist. He played from his latest composition "The Journey of George Floyd," which is yet to be released. Pianist, composer Fabian Almazan was in complete solo experimentation mode enlisting technology toys I had never seen before like a omnisphere (a synthesizer programmer); and the youngster 21-year old Morgan Guerin played four instruments––soprano saxophone, drums, piano and percussion––in his video, saying he had just completed it 15 minutes before coming on. Just this series alone is well worth becoming a member of The Jazz Gallery. Watts described the series as "a great way of sharing ideas and checking out everybody's voice."