Black and Blue: Clashes in Brooklyn reveal the state of NYC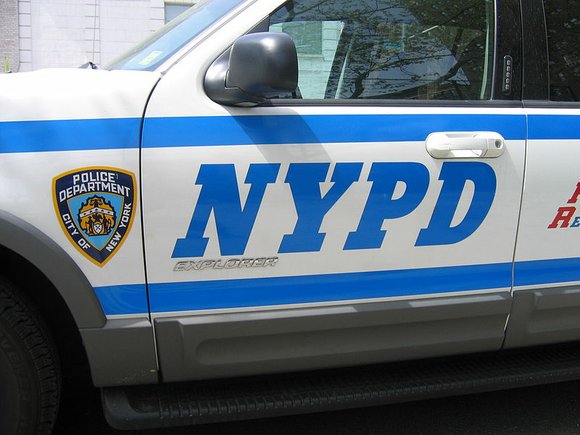 They're not a race, but have established themselves as one.
"Blue Lives Matter" protesters took to Bay Ridge in Brooklyn to announce their support of police and their alleged mistreatment by the public, the mayor and specifically Black Lives Matter protesters. The scene turned chaotic quickly.
Physical altercations, violence, foul language of all kinds was spewed on both sides.
As seen in several online videos, Blue Lives Matter protesters hurled racial and sexist epithets at Black Lives Matter protesters.
It all began on Saturday, July 11, at an event where video shows New York State Assembly Woman Nicole Malliotakis marching with a group in Dyker Heights chanting "USA!" while holding an American flag. The assemblywoman had recently announced a Goya canned food drive for local pantries after its CEO Robert Unanue declared his loyalty to Pres. Donald Trump. Brooklyn Conservative Party Chairwoman Fran Vella-Marrone was also in attendance.
But things took a violent turn on Sunday with other Blue Lives protesters.
Several dozen Black Lives Matter protesters showed up to counter-protest a Blue Lives rally whose head count amounted to several hundred. Guarded by the police Blue Lives protesters hurled insults and other choice words at Black Lives protesters leading to a violent clash. Black Lives protesters accused the police of being extra aggressive towards them to protect the Blue Lives protest attendees.
"The Trump/pro-cop rally/white supremacist ralliers ((sic) inflicted violence and brutalized counter protestors while the NYPD turned a blind eye," said Bay Ridge resident Abdullah Yonus, who helped organize the counter-protest, to the AmNews. "At both rallies, unlike the horrific violence the NYPD has inflicted on Black Lives Matter protestors since the George Floyd uprisings, the NYPD white supremacists were treated with care and support, and not arrested. But, multiple and violent arrests were made against counter protestors."
Yonus said he left the protest with a busted lip after allegedly being assaulted by a Blue Lives protester.
New York City Council Member Justin Brannan, who represents Bay Ridge, Bensonhurst, Bath Beach and Dyker Heights, didn't respond to AmNews' requests for comment, but did take to social media to express his disappointment over Sunday's events.
"I am disturbed by the violence tonight in #BayRidge," wrote Brannan. "The blame falls equally at the feet of elected official & leaders who refused to take responsibility for the vitriol and hatred displayed at yesterday's protest."
In the very next tweet Brannan called for New York City Mayor Bill de Blasio and the New York Police Department (NYPD) to investigate after a video clip showed an officer tasing a counter-protester.
Last week, with the help of de Blasio, a "Black Lives Matter" sign was painted on the street in front of Trump Tower on Fifth Ave. between 56th and 57th Streets. The gesture is supposed to signal the city's alignment and commitment to social justice and anti-police brutality. The painting has been praised in some outlets as a shot at Pres. Donald Trump (who called the painting a sign of hate) that solidifies the city's liberal bonafides.