'This. Must. STOP!': Toddler's death rings alarm on violence
CYRIL JOSH BARKER Amsterdam News Staff and NAYABA ARINDE Amsterdam News Editor | 7/16/2020, midnight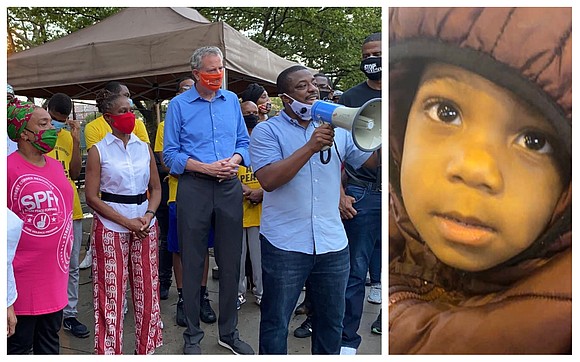 There are cowards amongst us, shooting babies.
One-year-old Davell Gardner Jr. was just two months shy of his second birthday when his life was taken by gunfire in Brooklyn on Sunday night, July 12. The death of the toddler set an alarm of awareness of just how bad violence in the city is.
"The cowards have seized control of the streets," said Marquez Claxton, retired NYPD detective. "Too often, they are given cover because of a phony 'alleged' street code. These criminals have focused their rage inward and now terrorize our family and neighbors...even our babies."
Once upon a time, one of the laws of the streets was that babies, elders, women and children in general were off limits; street regulation punishable. But, gun violence is on the rise.
While the nightly all-night fireworks have stopped, they have been replaced with deadly drive-bys and random shootings.
The NYPD reports Gardener was in his stroller outside Raymond Bush Playground in Bed-Stuy during a family barbecue when two men walked up to the crowd and opened fire.
The police told the Amsterdam News that on Sunday at approximately 11.30 p.m. they were called to 464 Madison Street in Bedford Stuyvesant. "Upon arrival, police encountered a 36-year-old male who was shot in the leg. EMS also responded to the scene and removed the 36-year-old to Kings County Hospital in stable condition. Prior to police arrival, a 1-year-old male with a gunshot wound to the abdomen and a 35-year-old male with a gunshot wound to the groin were taken to Interfaith Medical Center by private means. The 1-year-old male was subsequently moved to Maimonides Medical Center where he was pronounced deceased. Police also determined that a 27-year-old male walked into Woodhull Hospital with a gunshot wound to one of his ankles.
The three adults are expected to recover.
Police arrested 25-year-old Dashawn Austin on Thursday in connection with the shooting. Reports indicate Austin was charged with the murder in another shooting in March.
"The community's just getting worse and worse," Gardner's father Davell Gardener Sr. said in one televised interview. "Nobody's trying to make a change. And it's sad to say that like every day is just worse. You don't know if you won't live to see the next day."
Gardner Jr's grandmother, Samantha Gardener, said that criminals need to stop shooting at innocent bystanders and children.
"This is only a baby, 1 year old, that didn't even get a chance to start his life," she said in one report. "I hope they catch the bastards and put them under the jail cell."
Grandmother Gardner stated, "No kid should have to go that way, whether they're 1 year old or they're 15, 16 years old. They shouldn't have to lose their life. Innocent lives, over somebody's stupidity, over a coward. That's what I call them, a coward. And I hope they find who did this to my grandson."
NYPD Chief of Community Affairs Bureau Jeffrey Maddrey said on social media that Gardener's death is a sign of violence out of control on the streets.