'This. Must. STOP!': Toddler's death rings alarm on violence
CYRIL JOSH BARKER Amsterdam News Staff and NAYABA ARINDE Amsterdam News Editor | 7/16/2020, midnight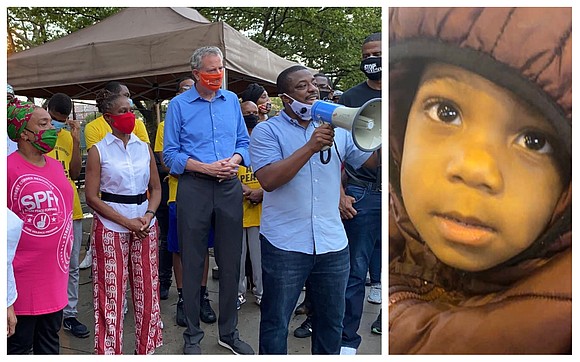 "This. Must. STOP," he said. "We as a community, we as a police department denounce this disgusting violence."
City officials are also weighing in on the recent shooting along with other shootings that have occurred throughout the city. Gardener was one of the 53 children that have been shot so far this year in the city. That's up from 37 this time last year.
During a span of over 24 hours on Monday, there were 18 people shot in 14 shootings. Among the victims is 17-year-old Lamar Gibson, who was shot during a dispute at George Washington Houses in East Harlem. Last weekend, the city saw shootings go up 277% compared to the same week from last year.
"Now is the time for us Black MEN to step up! Who's going to take on the responsibility of protecting our precious babies?" activist Bomani Mayasa told the AmNews. "When you're living in a society in which a baby can be targeted, shot and killed, you're living in a society that will not survive."
The co-founder of United Front/Afrikan Insurrecktion, Muzik asserted, "The only thing that can save our race from its own destruction is the presence of BLACK MANHOOD. Only Black manhood can create the safe spaces for our babies to grow and inherit the world we build for them. This incident shows the lack of MEN in our communities. Where are the MEN willing to exert their authority and protect our babies and communities?" 
"We cannot grow numb to the headlines on our screens or the violence in our streets," Public Advocate Jumaane Williams stated. "This cannot be considered normal, in our city or anywhere. It must shock us, and shock us into action that stems both the supply of guns into our communities and the many factors that lead to violence."
Mayor Bill de Blasio said during a press conference on Tuesday, July 14, that he spent time with Gardener's family speaking with his mother, aunt and grandmother. He described the family's grief as" a deep well of pain you could see in their eyes."
"No parent, no family should ever have to go through that," he said. "And if you experienced something like that firsthand, I assure you, you could easily fall into despair."
Last weekend, de Blasio and his wife, Chirlane McCray, participated in an "Occupy the Corners" event organized by Harlem-based anti-violence organization Street Corner Resources (SCR). The mayor announced a new initiative called Take Back the Block aimed at keeping streets safe by increasing police presence in areas that have become targets for violence.
In an interview with the AmNews, SCR CEO and founder Iesha Sekou said her organization has been able to keep violence down and the rise in shootings is heartbreaking.
"After experiencing a good run with a reduction in violence, we're now seeing the spikes of yesteryear," she said. "This is what we saw in 1993, 1996, around that time. This is the kind of violence that we saw in every borough. It almost makes you feel somewhat frustrated."