John Lewis: Civil rights lion gets into 'Good Trouble' in Dawn Porter documentary
Nsenga K. Burton, NNPA Newswire Culture and Entertainment Editor | 7/17/2020, 6:53 a.m.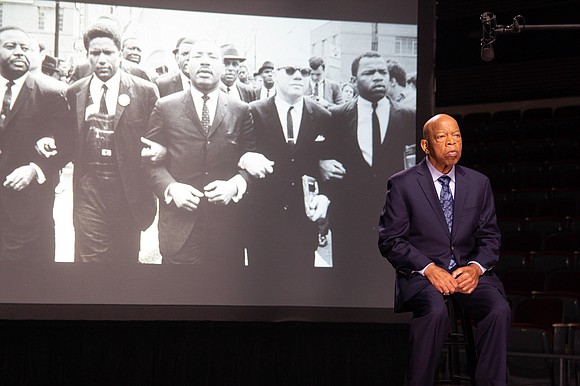 Congressman John Lewis is known and revered worldwide for his social justice activism as a young man during the modern Civil Rights movement which sparked large scale civic and social change in America. Many have seen the horrible 1965 footage and photos of Lewis being clubbed in the head while attempting to march from Selma, AL to Montgomery, AL arriving at the Edmund Pettus Bridge to 150 police officers waiting to deliver violence and intimidation to the protesters marching for voting rights for Black Americans.
Then Alabama Governor George Wallace had outlawed protests and marchers, who were raising awareness about the plight of Black Americans, who had been made to pay poll taxes, take literacy tests or flatly denied their right to vote by intimidation and the threat of violence at the ballot box. At that particular time, Black Americans made up 57 percent of the population of Dallas County, which is where Selma is located, yet and still only 2 percent of Black Americans were registered to vote.
On what would be called Bloody Sunday, Lewis, who at the time was Chairman of the Student Nonviolent Coordinating Committee (SNCC) along with other civil rights lions like Reverend Hosea Williams (SCLC) continued on their march despite then Governor Wallace's threats and were attacked by the police, sending 58 people to the hospital.
Lewis, who suffered a skull fracture during the attack, left the hospital the following week to testify before Congress about what had happened to the protesters, resulting in the passage of the Voting Rights Act by Congress which was signed into law by President Lyndon B. Johnson, giving Black Americans the right to vote and offering protections (National Guard) to marchers in pursuit of justice at the ballot box.
In Good Trouble, award-winning documentary filmmaker Dawn Porter (Gideon's Army, Trapped, Spies of Mississippi) captures the many sides of John Lewis which are all connected to his quest for freedom. Porter shows his early desire to become a preacher eventually leading to a career in social justice and politics.
In the documentary, we see a young John Lewis from Troy, AL who aspires to be a preacher to such an extent, he preaches to chickens. His desires shift when at 15-years-old, the actions of Rosa Parks and Dr. Martin Luther King change his path, leading the civil rights lion to "Good trouble; necessary trouble to save our country, to save our democracy," he says.
Lewis, who has been arrested 40 times, five of those times since being a member of Congress, allows viewers into the world beyond politics. Viewers learn how he met and fell in love with his wife, Lillian Miles Lewis, who died in 2012 and that he is still as heartbroken over the loss today as he was the day she passed.
Viewers see the fun side of Lewis, who loves to dance and crack jokes with his mentees and staff. John Lewis lights up any room her enters. Lewis is a man revered for his commitment to Civil Rights and viewers learn that all aspects of his life are tied to that pursuit. Lewis' values as a human being are always at the forefront of every decision he makes in his personal and professional life.