Black Lives Matter mural vandalized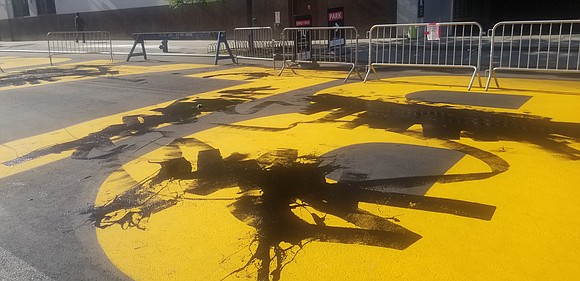 Just like clockwork, several Black Lives Matter street murals across the city are being subjected to vandalism. Some of the suspects, however, might surprise many.
Ever since the city announced that several Black Lives Street murals were being painted on city streets, objections nearly equated praise. Negative rhetoric about the murals has disseminated from the White House with Pres. Donald Trump calling the mural painted in front of Trump Tower on Fifth Avenue a "symbol of hate."
"NYC is cutting Police $'s by ONE BILLION DOLLARS, and yet the @NYCMayor is going to paint a big, expensive, yellow Black Lives Matter sign on Fifth Avenue, denigrating this luxury Avenue," Trump said on Twitter. "This will further antagonize New York's Finest, who LOVE New York & vividly remember the horrible BLM chant, 'Pigs In A Blanket, Fry 'Em Like Bacon.' Maybe our GREAT Police, who have been neutralized and scorned by a mayor who hates & disrespects them, won't let this symbol of hate be affixed to New York's greatest street. Spend this money fighting crime instead!"
As of this week, six incidents of various murals around the city have been reported. The Fifth Avenue mural has been targeted the most. The first incident occurred last Monday when a white man dumped red paint on the mural. Police are still looking for the man who was wearing a mask and was caught on cellphone video pouring paint on the mural and then running away.
However, a 29-year-old Black woman identified on social media as Bevelyn Beatty went on a vandalism spree last Saturday, July 18, when she smeared Black paint on three Black Lives Matter murals during a 10-hour period.
Beatty is president of At The Wells Ministry and is described as a right-wing radical. Beatty was arrested alongside another woman, Edmee Chavannes, in front of the Margaret Sanger Planned Parenthood Center in Manhattan. Beatty has made several statements proclaiming that even though she is a Black woman, she does not support Black Lives Matter.
Last month in Seattle, Beatty was seen telling protesters not to vote for the Democratic Party and that Black people would die if Democratic presidential candidate Joe Biden is elected. She is frequently interviewed by Fox News.
Beatty first went to the Black Lives Matter mural on Fifth Avenue where she poured Black paint while wearing a t-shirt that read "Jesus Matters."
"You wanna defund the police for Black people," Beatty shouted while pouring the paint. "We want our police! Re-fund our police!"
An NYPD officer was injured while detaining Beatty on Fifth Avenue when he slipped on the paint and hit his head on the pavement. The officer was taken to the hospital with minor injuries.
Beatty was released and was given a ticket on criminal mischief charges. As soon as she was released, she went to the Harlem Black Lives Matter mural on Adam Clayton Powell Boulevard. Video also shows cars driving over the mural while people pour paint on it. Beatty videotaped her vandalism and posted it on YouTube and Facebook.
"We were certainly aware of the attacks on the murals as a new trend. But we felt sure no one would come to Harlem to purposely do this," said Nikoa Evans Hendricks, executive director, Harlem Park to Park, who helped create the mural. "We know where our hearts were in creating this mural for Harlem and we also know how much love and support it received. This was not a political statement as much as it was an embrace of a community that we, as Black women, felt really needed it."
In Brooklyn, Beatty struck again later that night pouring paint on what was the city's first Black Lives Matter mural on Fulton Street and Marcy Avenue. She was joined by two other people using paint rollers in an attempt to cover up the mural.
"The police need our help, they can't stand alone," Beatty said. "Don't just sit by idly and watch your country go to the ground. Stand with your police force. Vote for Trump, vote Republican, vote for Christians."
As a result of the vandalism, Mayor Bill de Blasio has reportedly assigned nearly 30 police officers to monitor the Black Lives Matter mural on Fifth Avenue.