From classroom to Congress: Jamaal Bowman ready to take on Washington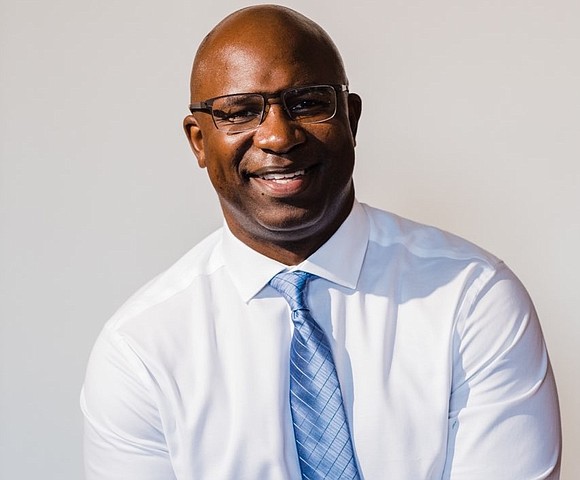 Last month, Congressman-elect Jamaal Bowman beat 30-year incumbent Congressman Eliot Engel during the primary election to represent New York's 16th District in Washington. The Bronx middle school principal won taking over 55% of the vote.
In a recent interview, Bowman, 44, said he knew he was going to win even with the COVID-19 pandemic and America's racial reckoning taking place in the backdrop.
"I feel very excited and very fortunate to be in this position," he said. "The country seems finally ready to take issues of racial injustice very seriously and to deal with it very directly. We built a movement to win this campaign. We were able to triple voter turnout, increase voter turnout among young people and people of color. We really won by bringing together a diverse coalition to fight for racial and economic justice."
Bowman was raised in East River Houses in East Harlem and later lived in Sayreville, N.J. as a teen. He would go on to college and to earn a doctorate degree in education. He worked as a teacher in the South Bronx and in 2009 he founded the public middle school, the Cornerstone Academy for Social Action. He said a disturbing trend among young people in the Bronx inspired him to run for office.
"During the 2017-2018 school year, 34 children died within the K-12 school system in the Bronx and 17 died via suicide," he said. "There was the trouble of trauma happening across the Bronx and there wasn't a peep and there wasn't any leadership from the elected officials, particularly our member of Congress, really making the connection between bad policy, poverty and the trauma that results from it."
The 16th Congressional District consists of the north Bronx and the southern half of Westchester County. The district has over 730,000 residents in New York City and several towns including New Rochelle, Mount Vernon, Yonkers, Tuckahoe and Scarsdale. The racial makeup of the district is 34% Black, 32% white and 24% Hispanic. Income levels in the district are as diverse as the people who live in it.
"We were fortunate to build a diverse coalition across the district," he said. "We had people on our team who represent all areas of the district. Everyone in the district wants fully funded public schools. Racial justice is an issue that crosses boundaries in the district. The stereotypes aren't always what's really happening on the ground."

Starting his campaign in June 2019, Bowman didn't anticipate running in 2020 in the midst of the COVID-19 pandemic. Polls indicate that the issue is at the top of the list for many voters. The Bronx has seen some of the city's highest numbers of COVID-19 cases and deaths.
Bowman says the pandemic has been mishandled by President Donald Trump's administration and wants to provide more to the nation when it comes to battling COVID-19 from a health and financial standpoint.
"We didn't provide enough financial relief for the American people," Bowman said. "We gave a one-time $1,200 check where we called for multiple checks of $2,000 during the duration of this pandemic. We're calling to keep unemployment insurance to $600 per month and we need to bring the full resources of the federal government to open up our public schools safely. The HEROES Act presented by the Democrats is very strong; the Republicans are coming back with something that's not as strong."
As America continues to deal with the aftermath of George Floyd being killed by police, Bowman released his Reconstruction Agenda last month aimed at dismantling systemic racism by creating a reparations plan, transforming law enforcement and criminal justice, and pushing for "historic levels" of economic investment.
"We call for a defunding of the police and the reallocation of those resources toward housing, jobs, health care and fully funding our public schools to give people true safety and security in their community," he said. "Policing doesn't make people safe."
There is no Republican opponent in the general election for the 16th Congressional District, meaning Bowman will assume the congressional seat in January 2021. During his first 100 days in office, Bowman said he is getting people back to work by investing in communities that have been ignored.
"During the Great Depression we implemented a New Deal; now it's time for a 'Green New Deal' to get people back to work in the areas of health care, housing infrastructure and education," he said. "In the long-term, we have to continue to fight for racial justice in all its forms."
In the interim, while he waits to take office, Bowman said he wants his soon-to-be constituents to know that while his election is a victory, it's just the beginning.
"We cannot stop here," he said. "We have to continue to organize and engage around the issues that are important to the district. We have to fight for housing, we have to fight for jobs, we have to fight for education, criminal justice, health care. I need the district to come together to fight for all of these issues."