Reopening puts teachers, students and all educators in danger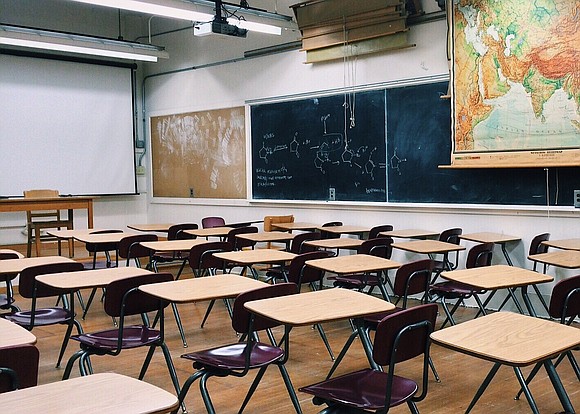 With 66% of New York City public school students being Black or Latino (according to Department of Education data), Khalid believes it's irresponsible to go forward without a plan that guarantees the safety of teachers and students.
"The majority of the children that would return to school would be the most vulnerable children and their families would be the most at risk of serious COVID-19 related illness," said Khalid. "In New York City since the schools closed, many sites have been open daily to provide grab and go meals for families in need."
Some of Khalid's reasoning is demonstrated in a recent report released by New York City Public Advocate Jumaane Williams' office. The report calls for no in-school instruction until October.
Before then, the city should open and expand Regional Enrichment Centers to provide education resources to the city's most disadvantaged students using what the report called a "pod model" that keeps students in the "same small groupings and the same rooms."
Williams said that this is the only way school reopenings could work.
"As we work to give our students the best education possible amid the pandemic, our priority has to be on the safety of students and staff, educators and parents," stated Williams. "Reopening strategies for schools, just as with any other element of reopening, need to be driven by medical science. We can never completely eliminate risk, but this proposal minimizes it to the greatest extent possible while still allowing for some students to resume in-person instruction. As the public health crisis evolves, so too can our response."
Attempts to contact City Hall and Mayor Bill de Blasio were unsuccessful.
A spokesperson for United Federation of Teachers President Michael Mulgrew said that the union is doing the best job it can do to help teachers through the process.
"As President Mulgrew told more than 22,000 UFT members on a Town Hall conference call last week, the union is adamant that schools have to be safe—for students and staff—for buildings to reopen," the spokesperson said in an emailed statement.
Another hotspot for the discussion of school reopening can be found in Florida. Because of the lack of social distancing in the state, as of Tuesday, July 28, Florida reported 9,230 more COVID-19 cases with 186 residents' deaths. The number of reported cases this week added up to 441,977 cases since the first case identified in March.
And yet, Republican Gov. Ron DeSantis and State Education Commissioner Richard Corcoran plan on fully reopening schools despite a 23% increase in hospitalization rates of Floridians 17 and under who have contracted COVID-19.
American Federation of Teachers President Randi Weingarten blasted the entire Republican agenda and Senate Majority Leader Mitch McConnell for not providing enough funds for education in the proposed Health and Economic Recovery Omnibus Emergency Solutions (HEROES) Act bill leaving local areas out in the cold and falling short of what schools need to reopen safely if at all.
"The relief McConnell has offered doesn't match the scale of this crisis," said Weingarten. "Moreover, it includes no new funding to help states, cities and towns recovering from cratering tax revenues—in contrast to the more than $1 trillion offered in the House-passed HEROES Act. Without some federal aid for state and local budgets, we can expect millions more layoffs, and devastating cuts to the very programs families are relying on, including food assistance, unemployment and health care."
So, amid all the turmoil, will educators come back? Khalid said that it would require that certain conditions be met.
"Hopefully, when the time comes means, when it's safe," Khalid said. "If so, I certainly plan to return when the conditions are safe to do so. I hope that our state and local leaders will cover all grounds to ensure that it is safe for students and teachers to return to school. I can't wait to see my students back in the classroom learning and this pandemic is just a bad and very distant memory from the past."