SUN'S OUT, GUNS OUT: Heatwave, COVID, poverty and societal ills blamed for crime wave
NAYABA ARINDE Amsterdam News Editor and CYRIL JOSH BARKER Amsterdam News Staff | 7/30/2020, 2:55 a.m.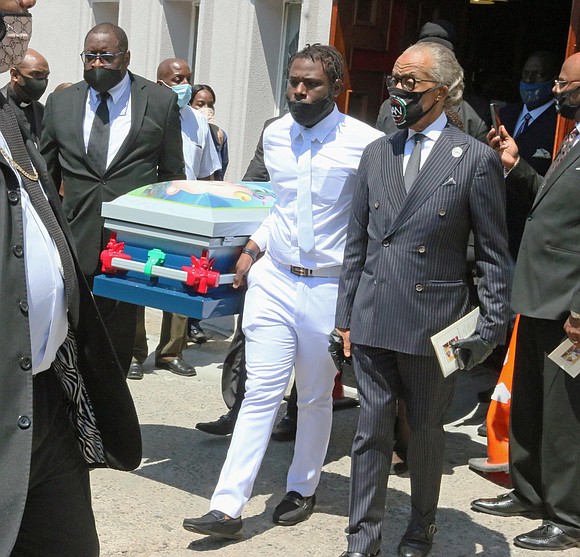 New York City is seeing a 200% increase in violence when comparing this time to last year. Shootings are up 85%. On Sunday, July 26 alone there were 15 shootings reported resulting in seven deaths.
There were 10 more shootings on Monday, July 27. On the very same day mourners, mostly dressed in white, many teary-eyed and devastated by an unimaginable pain, looked upon a tiny brightly colored casket, adorned by a bear and an Elmo stuffed toy.
The Rev. Al Sharpton eulogized the funeral of Davell Gardner, the 1-year-old killed in Bed Stuy on July 12 as he sat in his stroller at a family cookout. Three men were also hit sustaining non-life-threatening injuries. The NYPD held Deshawn Austin as a person of interest, but as of press time a named killer has not been apprehended.
The yellow tape has gone, but yet another makeshift shrine for an innocent is maintained near Raymond Bush Park where the baby sustained a bullet wound to his stomach.
"It just hurts," Davell Gardner said of the loss of his son. "I don't have somebody to call me 'daddy, daddy, daddy.' "
The pain reverberated throughout Tabernacle Pleasant Grove Baptist Church, as the young man said, "It was a great experience being a first time father to a son. And gun violence took my son."
Ten minors have been fatally shot during this COVID-19 era.
Seven people were killed on Sunday, and 10 over the July 24 weekend.
On the ground in hotspot areas in East New York, Brownsville and Bedford Stuyvesant, Man Up Inc. founder/Crisis Management Systems and activist A.T. Mitchell told the Amsterdam News, "Every summer we do anticipate an uptick in gun violence. As Assemblyman Charles Barron says, 'When the sun comes out, the guns come out,' but this year has been unprecedented. We are experiencing a violent crime wave that we have not seen in over two decades. There has been a number of senseless killings going on all over the city."
By press time Mitchell's Man Up concluded the multi-partnered 14-day, five borough, 500 men challenge to put "Black and Brown boots on the ground to protect our women, children, elders and community" from gun violence. He said that with this public health crisis, "I'm contributing this to the COVID pandemic. People have been going through a tremendous amount of duress and stress, and mental anguish, and grieving. People have lost loved ones. I'm going to put it down to the pressure the police imposed on people when they began to come outside; then the George Floyd case that shed a light on police brutality, and the protests. All of these things in combination is what I attribute the uptick to. And of course poverty is the root cause. Where there is poverty there is always going to be crime. This tests our community's resilience. I am so proud of us as a city. We have so many partner organizations that we are out here working overtime to reduce retaliations, and to try and reduce the violence out here."