Human rights implications triggers nationwide protests
Brenika Banks | 6/2/2020, 1:49 p.m.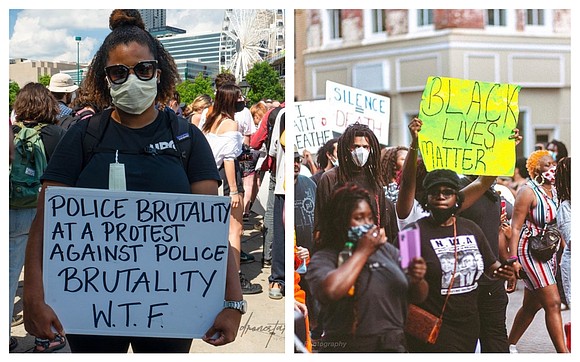 Chants of "no justice, no peace" and "prosecute the police," continue from protesters across the United States. George Floyd, known as a "gentle giant" to his loved ones, is one of the latest African Americans to be killed in police custody. His wrongful murder, by the hands of white Minneapolis police Officer Derek Chauvin, is the last straw for Black Americans, as well as many others fed up with systematic anti-black racism. Atlanta, New York City, Oakland, and Minneapolis are a few of the many cities across the nation with large marches in response to injustices of Black people dying at the hands of police. More violation of human rights is inexcusably nonstop for African Americans during this COVID-19 pandemic.
"We believe stronger limitations to police use of force should be enacted in a state's law to present the best opportunity for guidance for law enforcement officers and accountability where force is used excessively, particularly when it results in death," said Kristina Roth, Senior Program Officer for Criminal Justice Programs at Amnesty International USA. The organization works across the U.S. to pursue justices of critical human rights violations. Roth expressed that human life is too precious and police must reserve deadly force, before causing irreparable damage to families by senselessly killing their loved ones.
"In this moment," Roth continued, "when communities are crying out in pain in the streets for the unnecessary loss of George Floyd, Breonna Taylor and others, elected officials must do more to prevent these deaths from happening again and provide for greater accountability in our laws that dictate how an officer may use force or lethal force."
Amnesty International has advocated for the right of the media to document and distribute information to the public. The organization has also spoken up when media personnel are arrested by police, like the recent arrest of journalist Omar Jimenez by Minneapolis police while reporting live.
Committee to Protect Journalists Program Director Carlos Martinez de la Serna made this statement on May 30 in New York: "Journalists have a responsibility to report on matters of public interest, such as protests, and should be able to freely cover these events without fear of retaliation from authorities. These arrests ring of intimidation and are simply outrageous."
Black Americans and non-black allies strongly believe protests must continue to ensure that all state governments hold every police department accountable for excessive force that violates black lives. The reality of the COVID-19 pandemic and racism for black Americans simultaneously is an enormous deal to bear. Social distancing is still a necessary practice to avoid a second wave of the virus. However, many protesters are not allowing COVID-19 concerns to deter them from attending demonstrations.
"I think we have to find a way to care about both things," said Brooklyn Assemblymember Mathylde Frontus. Frontus responded to the large crowd of protesters in front of Barclay's Center in Downtown Brooklyn by saying, "everyone should wear their mask and take precautions. I'm very concerned about a second wave of the coronavirus. But there's no way that we cannot protest. That's impossible." Multiple video footage of what happened to George Floyd, as well as the countless videos and reports of black people being murdered by authorities are triggers for people of African descendant.