"Legalized Murder": Protesters let out frustration, cops respond with force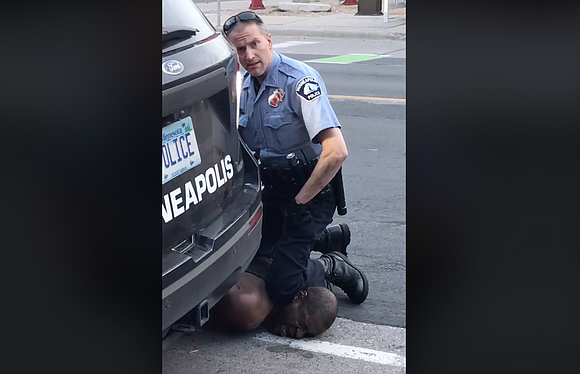 Tired of being tired, protesters found the energy to let their voices be heard.
The past week-plus of protests have kept America on edge. The murder of George Floyd by Minneapolis Police Department officers lit a match under the country which the global pandemic couldn't stop. Floyd's mother Roxie Washington called for justice "because he was good" during a news conference. Friend and former NBA player Stephen Jackson said "I'm ready to fight. I'm ready to stand for my brother."
According to an emailed statement from the Community Service Society, George Floyd's murder is proof that even during a global pandemic, Black life doesn't matter.
"The COVID-19 pandemic has laid bare the stark landscape of this endemic racism in jarringly disproportionate rates of death, destruction and economic ruin in Black and Brown communities," read the statement. "The protests, and indeed the violence that has accompanied some of them, are inexorable responses to unaddressed issues and conditions in our cities and across the nation––and to the hidden and blatantly racist policies that dictate  access to healthcare, jobs, decent housing, quality education, and freedom from police incursion in the fabric of daily life based on race and income," continued the statement.
CSS' statement also said the government sent a message to those who are fine with "legalized looting" on Wall Street and "legalized murder" by the police that the structural inequalities plaguing America, which reduce people of color to second-class citizens, are fine.
The condemnations of police brutality have been met with more brutality towards protesters.
While the protests have been peaceful by day, outsiders and agitators show up at night to destroy property and loot businesses. Although some of the daytime protests have brought out looters, the majority calling for peace outweigh the looters. The night brings a different story. At the beginning of the week New York City Mayor Bill de Blasio instituted an 11 p.m. curfew after the looting of retail spots in SoHo and Herald Square.
That didn't stop the looters from taking to the streets of Manhattan and the Bronx. From Fordham Road in the Bronx to multiple neighborhoods in Manhattan, the agitators ramped up the looting and destruction of property.
When asked by a reporter if New York should bring in the National Guard, Mayor Bill de Blasio said he wouldn't even consider the option.
"Someone needs a history lesson," said de Blasio during the media briefing. "When outside armed forces go into communities, no good comes of it. We have seen this for decades. Go back to the '50s, '60s with the Civil Rights Movement on through all the way up to today."
Cuomo wouldn't consider the National Guard either, but called the NYPD's handling of looters "a disgrace."
"The police must stop the looting and the criminal activity," said Cuomo during his media briefing. "That is the essence of the police force. They are supposed to protect the community, protect the property," Cuomo said at his daily briefing at the state Capitol. "They did not do that in New York City last night. And I am disappointed and outraged about what happened in New York City last night."