Trump—up against the wall and clutching for straws
Herb Boyd | 6/11/2020, midnight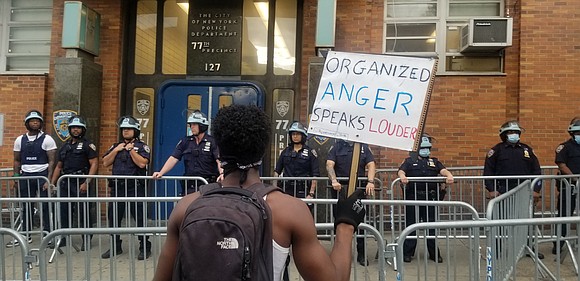 Pinned against the wall or painted into a corner, Trump is in a desperate place, scrambling to free himself from a triple crisis—a ceaseless pandemic, Depression-like unemployment, and a coast-to-coast outrage about the police killing of George Floyd.
He has provided no reasonable response to any of these pressing problems, in fact he has fueled the discontent over police brutality, offered no reasonable solution to COVID-19, and announced a victory lap on the uptick on the economy with the reopening of the nation.
A tweet from him on Tuesday did nothing to calm the marches against the police, protests he has defined as "domestic terrorism." In response to the attack on Martin Gugino, the 75-year-old man who was violently shoved to the pavement and seriously injured by police in Buffalo, Trump claimed he "felled harder than he was pushed," an impression that mirrors an earlier police account that said Gugino tripped.
This comment seems to be part of a wedge Trump is using to divide the Democrats who are weighing in on the call to defund the nation's police departments.

When Mayor Jacob Frey stood amid a crowd protesters in Minneapolis and rejected the idea of defunding the police, calling instead for reform, he was met with a round of boos. Joe Biden, the Democratic presidential nominee, has also refused to endorse the growing initiative to defund the police.
Biden's reaction anticipated Trump's move to shove him into the camp of the activists calling for the change.

"The Radical Left Democrats want to Defund and Abandon our Police. Sorry, I want LAW & ORDER!" Trump tweeted Monday, suggesting that Biden shared these aims––and hoping to alert his base.
Wasting no time to defang Trump's tweet, Biden told reporters that he did not support any steps to defund the police. Federal funds, he said, should be set aside to promote honor and decency in the police departments of the country.
But it's the country's economic situation that is paramount to Trump and his campaign team, and that necessitated his cheering of a decrease in unemployment and the reopening of businesses. What he didn't say was that none of a so-called rosier economic picture has impacted the recession or provided any uplift to communities of color.
Trump has also challenged the various polls that show him trailing Biden close to a double digit and his own popularity sinking as Biden nears 50%.
In addition, Trump has voiced strong opposition to voting by mail, stating that it was an open door from fraudulent activities by Democrats to rob him of the election in November. His reckoning on this is as nearsighted as his views on other things, failing to indicate that Republicans have been the real beneficiaries of voting by mail.
As for the pandemic, Trump's answer will come in a few days in his promise to resume his re-election campaign with mass rallies. This plan comes as a good number of states are still a long way from herd immunity and already two states have reported spikes in the number of people infected.