Black Lives Matter mural hits Brooklyn
NAYABA ARINDE Amsterdam News Editor with additional reporting by OBINWANNE NWIZU | 6/18/2020, midnight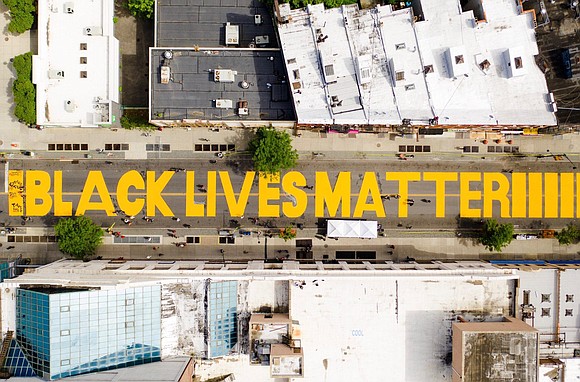 After a big community-involved event this week Brooklyn became the home to the first Black Lives Matter (BLM) mural in New York City. Painted along a busy Brooklyn thoroughfare, the mural, painted in large sunflower yellow block letters, is similar to the one commissioned by Washington, D.C. Mayor Muriel Bowser which leads to the White House's 1600 Pennsylvania Ave. address. The Brooklyn mural stretches 565 feet from Harriet Ross Tubman Ave./Fulton St. and Marcy Ave. to Brooklyn Ave. in Bedford-Stuyvesant. To further the conversation, the artwork presents a unique touch as it displays the names of unarmed Black civilians killed in racially motivated attacks of police brutality, among them Sean Bell, Tamir Rice and Sandra Bland. The mural also has a row of caskets as twenty bars––representing the year 2020.
Robert Cornegy, Brooklyn Council Member for District 36, which covers the mural's location, helped spearhead the project along with Dr. Indira Etwaroo, executive artistic director of The Billie Holiday Theatre in Restoration Plaza.
Cornegy determined that with the pushback against the Black Lives Matter organization with the "All Lives Matter" response––despite the continued murders of unarmed Black people––it is important that the Black Lives Matter narrative be repeated.
And despite the obvious gentrification of the area, he stressed that in Bed-Stuy, "the last bastion of Black homeownership…of small businesses..of political power..of ecumenical power, there should be no place else in the city, or state of New York where Black Lives Matter more than in Bedford Stuyvesant…This community is 65% Black, and if we're not gonna speak up for ourselves, how can we expect anyone to speak up for us? [It] is symbolic."
He added, "We have city, state, and federal representatives that are leveraging their political careers to make sure that Black Lives Matter in the budget…in legislation and policy."
The Amsterdam News questioned why it was necessary to reiterate the phrase "Black Lives Matter" in paint, no less on the street, when surely it is more than obvious to us, as Black people.
Asked if the slogan sought to seek validation from others about the value of Black life, the term-limited politician––who reportedly is looking to run for borough president next year––replied,
"We shouldn't be committing violent acts against one another…We can't continue to keep devaluing our lives…Black-on-Black crime is a real thing.
"I did this for us. This wasn't to validate that statement to other people around the world. This was so that other people who love us validate us…not another segment of society. This is us talking to us for us."
The painting of the street began early in the morning on Saturday, the 13th of June. While all the letters and bars were done a day later, the finishing touches were still being made in the days following. More than thirty Brooklyn-based visual artists joined famed artist Cey Adams and Dawud West to bring the mural to fruition. "There's a lot of things that have been going on lately, and for years, that have been questionable, or even reprehensible," said West. "For people to take notice has been a task. So, this, actually, makes you take notice."