#BLM art across the U.S.
SHERYL NANCE-NASH | 6/18/2020, midnight
At times there are no words. No words to adequately express the depth and breadth of what you're feeling. A picture though, is worth a thousand words. Indeed, artists around the nation are speaking boldly, making it plain to all that Black Lives Matter.
Minneapolis is the epicenter of the street art around Black Lives Matter and the murder of George Floyd. Nearly every boarded-up window and blank wall in the area of Lake Street and the Chicago and 38th Street memorial have been painted by artists. There are more than 60 works of art. But all over, in cities like Miami, Richmond, Chicago, New Orleans, Durham, Raleigh, Greensboro, Providence, there are even more.
Here we showcase the street art of some of the many artists having their say and shaping the narrative.
Detroit
Charles "Chazz" Miller's work is poignant. His stained-glass piece with the face of George Floyd, a courthouse, and other symbols is a study for a large mural about "What we want!" to be reformed: civil rights, freedom of expression and justice for all based on the Universal Declaration of Human Rights, he explains.
Another work features the Statue of Liberty with a black eye from fighting its own people. The fists depicted represent freedom through power and unity. With his mural, "Armed With the Shield of Truth and Justice," he hopes to uplift, to inspire change and to provide insight to those who can't see. "But most of all, to convey the message, stop looking and start seeing," says Miller.
Miller is just getting started. He's looking for support on a large mural to honor all those who have lost their lives due to injustice. The working project title is "Souls for Peace." He wants 1,000 pairs of donated shoes, preferably from those who have been protesting in marches. You can find out more via @chazzoriginalzart.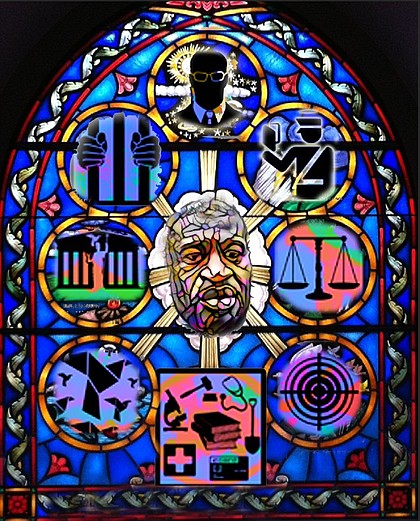 Charlotte
You likely saw images of the massive Black Lives Matter banner in bright yellow letters that spans the width of two blocks on 16th street near the White House in Washington, D.C. Charlotte has a colorful Black Lives Matter mural. Seventeen local artists painted the letters that line an entire block along Tryon Street between third and fourth streets. The mural was part of a collaboration with the City of Charlotte, Charlotte is Creative, Brand The Moth, BLKMRKTCLT and the artists. From idea to completion the project took just a few days.
Abel Jackson was one of the artists. His task was creating the letter C. "I wanted to illuminate the fact that the need for justice and equality can't be ignored. On one hand you have a society that declares that 'All men are created equal' but all are not treated equally."
His design includes a silhouette of Tommie Smith for the "who raised his fist to fight for human rights and equality" at the 1968 Summer Olympics. "At the time the world tried to ignore him. In my design, the raised fist is surrounded by the brightness of the sun as if to say, you can no more deny us any more than you can deny the sun in the sky," says Jackson