Geri celebrates 99
Ron Scott | 6/18/2020, midnight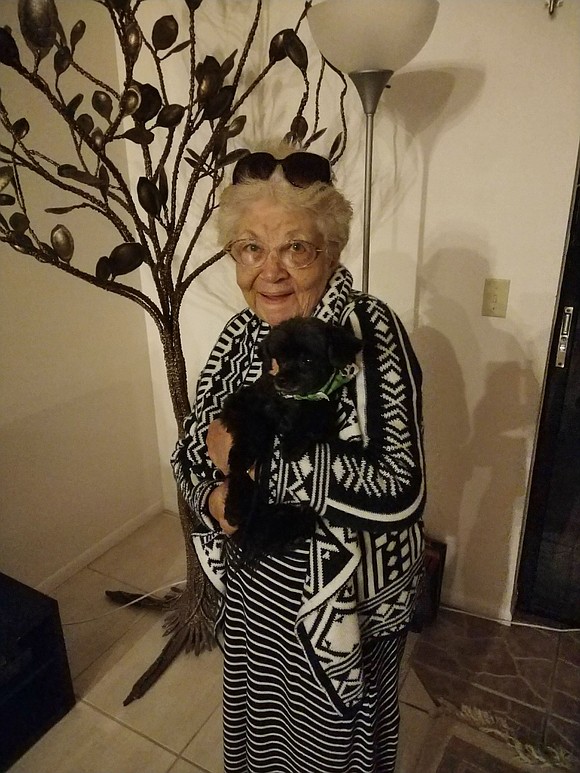 Recently, a good friend Laverne Perry-Kennedy called and said, "Hey, we have to do a three-way, today is Geri's birthday," (May 23). We started the three-way conversation by singing a crazy version of happy birthday with Stevie Wonder's version on high volume playing in the background at Perry-Kennedy's apartment.
Geri Fowler, celebrating her 99th birthday, thought our bad voices were hilarious. She thanked us and went on to say how friends from California, Texas, and her five grandchildren (and one great grandchild) had all called with birthday wishes. Her daughter, Kathie, had drove in from Florida to be with her mom on this special occasion, in the midst of this pandemic. Her oldest daughter Leslie Burns died on March 15, 2017. She lived in Manhattan and was the CEO of Noah Unlimited, a management and special events company. She was Perry-Kennedy's best friend.


"Feeling 99 feels the same because I still don't believe it," Fowler laughed. She said if it wasn't for the pandemic, we could have gone to a restaurant to celebrate with wine and food. "So next year hopefully all this will be over and we can go out and celebrate my 100th." Last year the three of us had brunch maybe two weeks before her 98th birthday.

Talking to Fowler is like walking into a living encyclopedia of Harlem from the 1930s to present. She was born in Chicago and moved to New York City at the age of eight with her mother, Nellie J. Fowler. Shortly after arriving in New York and moving to Harlem, Fowler and her mother lived at the prestigious 409 Edgecombe Avenue, in apartment 13A. "I lived there from age 11 to 20. Some of the most important people in the United States lived in that building," said Fowler. "Walter White, head of the NAACP, lived next door, his daughter Jane [Jane White went on to become a noted actress on Broadway and films] and I played together as kids. Thurgood Marshall was always at their apartment. Roy Wilkens lived downstairs on the 11th floor." She said the bandleader Jimmy Lunceford was the only musician who lived in the building and that was only because he had a degree from Fisk University. In her later years while residing at 409, she met and became friends with the bandleader, composer and arranger Sy Oliver, who regularly visited Lunceford.
Fowler's mother was hired by Frank Schiffman, who owned movie theaters like the Roosevelt, Lafayette (where the comedienne Moms Mabley often performed), Harlem Opera House and the Apollo Theater. She sold tickets at all the theaters including the Apollo where she stayed the longest. It was there she became friends with singers Sarah Vaughan and Billie Holiday. "You know they were both young then and had won the amateur night contest," stated Fowler. "They sometimes spent part of their breaks talking with my mother." Her job exposed her to a lot of live theater. "At that time, the Lafayette and Apollo were the only two theaters for Black people to see live music."