Osmond Gibson goes sky high to capture memories and Black history
Brenika Banks | 6/18/2020, midnight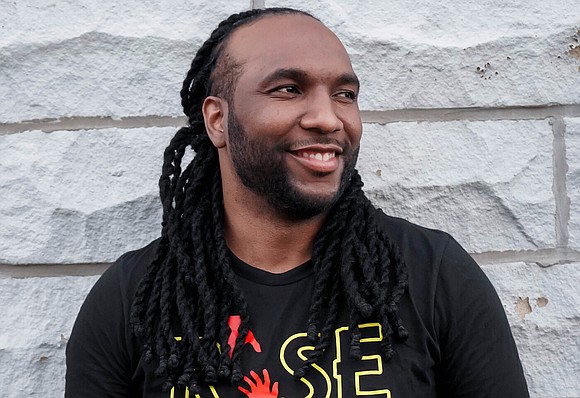 "Black Lives Matter" was painted in bright yellow, covering Fulton Street (Harriet Ross Tubman Ave.) between Marcy Ave. and Brooklyn Ave. in Bedford-Stuyvesant, Brooklyn. A group of Brooklyn-based artists completed the city's first BLM mural on Sunday, June 14th. Osmond Gibson, a photographer, heard about the mural and brought his camera drone to capture an elevated shot of the powerful words. He conveniently lives a few minutes away from the painting.
"I was lucky enough to catch that shot because there was hardly any people walking on the words," he said. Gibson has been capturing different protests and marches throughout the city, as New Yorkers fight for justice and beneficial changes for Black people. Gibson, 33, conveys the demeanor of a calm and reserved man. When he was 22, a friend he knew brought a camera to him that was found on the subway. Ever since, Gibson has taken pictures and learned the functions of a camera. He began to take pictures for fun, posting them on his social media page. "People ran with it and were like, 'Hey, do you want to take pictures at my party?' I took the pictures, they posted [online] and tagged me and that's how I started to build a fan base on my photography." After five years of taking pictures on and off, Gibson embraced positive feedback and began consistently pursuing photography in 2014. "Picking up that camera really changed a lot for me," he said.
At 14 years old, Osmond Gibson moved to Brooklyn from Guyana, South America with his mother and younger brother. Gibson said his mother never took photos of him as he was growing up. "My mom never captured that moment of birthdays and the growth of me." He once believed a picture of himself in front of a birthday cake was during his birthday celebration. Years later, he discovered it was a celebration for another child. The lack of photographed memories of himself motivates Gibson to snap unforgettable shots for his clients. "I just focus… I could catch that [moment] with people that I don't know and create their memories." He genuinely enjoys creating memories for his clients, and he is looking forward to building memorable moments for future clients. His photographing preference is to take pictures of people. "You can take a picture of someone and then you can tell a story. To me, a picture tells a lot."
Gibson is humble and appreciates the opportunities presented to him in the U.S. that aren't available in Guyana. He also works as a flight attendant with Jet Blue. His position at Jet Blue allows him photographic opportunities that he would not usually have if employed elsewhere. When he hears about an exciting event, Gibson usually goes and take pictures. These favorable occasions include capturing shots of a beach in Barbados with his camera drone, as well as shooting photos at Hennessy Artistry, one of Barbados' biggest music events. After that, he met reggae artist Tarrus Riley who loved his work and personally invited Gibson to capture his performance at the 2018 BRIC Celebrate! Brooklyn Festival in Prospect Park.