The rainmaker––Majek Fashek––is gone
DIABEL FAYE | 6/18/2020, midnight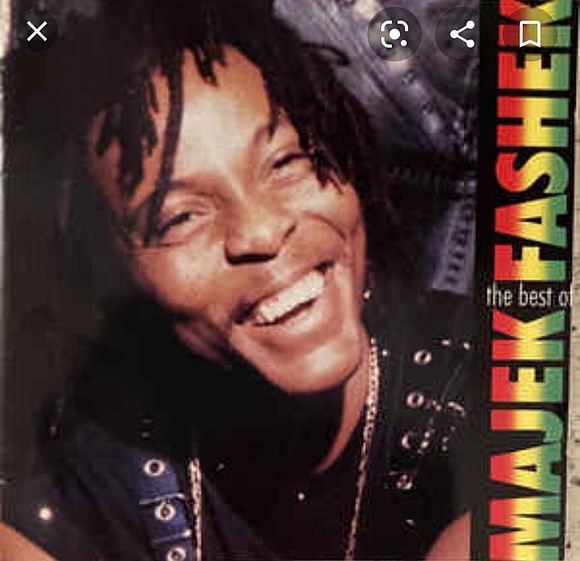 He who described himself as a sound word and power composer, was one of the many miscarriages of the corporate music industry; an industry married with the media's categorical approach in which music should be fitted in prescribed formats. A simple and quick case study about how Island Records got Marley beyond the reggae scene. Although undoubtedly acclaimed the foremost reggae icon; most people do not know that he was promoted outside the genre-ghettos, but just like rock and roll artists. Neither did that discredit him as a genuine Rasta man nor his attachment to the musical form; to the contrary embraced worldwide and across genres and age groups.
Interestingly enough, the same record company, Island Records, who masterminded Marley's promotion picked up Majek' first hit album "Prisoner of Conscience." Unfortunately, this happened when the company was already taken over by Polygram as the last truly viable independent record company which managed to hoist-up under the one umbrella many of today's iconic musicians from multiple genres. The death of the last Mohican of the industry was a blow to how music should be marketed and Majek came in at the wrong time. Subsequently, he went through Atlantic, Interscope, Lightyear Entertainment, Tuff Gong, and lord knows how many compilations and re-releases. Majek was a dream artist for a music label that is no more.
Each one of the record companies mentioned above promoted vertically the material affiliated with their respective entities, but none did so transversally as a polarized house of talent. On the other hand, an artist who goes through as many record companies as albums, reveals something about the artist and his personal development and management. In Majek's case, each company picked the cherries from the tree within their contractual agreement. At once, there is the opportunity of holders of Majek estate to achieve the transversal promotional approach, in collaboration with the different entities in a win-win circumstance.
Now postmortem, there is an uncertainty about what he earned or still owns on paper. Before his sickness totally incapacitated him, Majek made a video appeal that he was broke and the music industry should give him money. The generalization alone, by not mentioning any specific label, is telling. It also tells me that his heirs, NOKs, are even more in the dark as it relates to his past and future entitlements. What has happened to Majek is a symptomatic microcosm of African cultural proprietorship and the state of its artistic communities as it pertains to intangible and tangible properties. How many times do we see a musician's death prompting benevolent donations for a dignified burial, especially when it happens abroad? I do not want to see that happen to Majek Fashek, although his son, Randy Fashek, already released a video, in which he made sure that unscrupulous characters or organizations won't use his father's death for profit; while doing that, he also in a dignifying way admitted to the fact that help would be welcomed.
As it is often the case, the biggest and first hurdle is how to carry their lifeless bodies back home for a final resting plot. After the burial, heirs are left destitute and even worse with no clarity on copyrights and no future earnings. This begs a discourse about the usefulness of a benevolent legal task force. Isn't there a plethora of Nigerian/African lawyers in America, England and Nigeria? What does it take to create a benevolent legal task force? That task force, naturally with the consent of the artists' NEXT OF KIN, will demand a full disclosure, to all contracts related to his intellectual property issues. Albeit postmortem, it could bring light from the past to the future and set a precedent to be replicated, for other artists, under the same umbrella.
This is neither a call for an unconstructive legal battle nor a shakedown scheme, but be a constructive collaborative platform where every party finds it dues and that Majek Fashek estate federates everyone's input and sustains itself in a postmortem transversal promotion.
Indeed, TAKE IT AS A CHALLENGE; not that of a cold or steaming-hot bucket, but of an African Legal Restorative Action jurisprudence.