'Black Hearts Are Burning' discusses systemic racism in dance
Zita Allen | 6/25/2020, midnight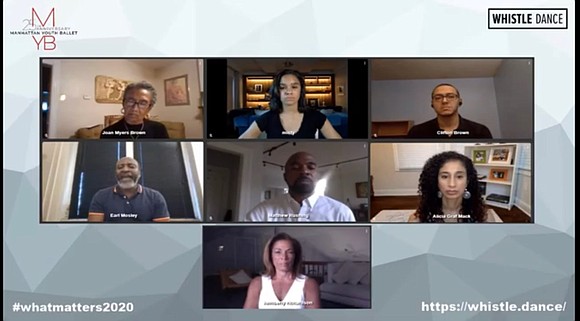 The far-reaching impact of George Floyd's murder by Minneapolis police which sparked protestors around the globe and the resounding rallying cry that Black Lives Matter were echoed in spirit Sunday, June 14, during a panel discussion, titled "My Dance, My Voice: Black Hearts Are Burning," with ABT principal ballerina Misty Copeland, PHILADANCO founding Artistic Director Joan Myers Brown, Alvin Ailey American Dance Theater Associate Artistic Director Matthew Rushing, AAADT's Clifton Brown, Earl Mosely, head of Diversity in Dance, Inc., and Alicia Graf Mack, the first Black head of the Dance Department at Juilliard.
For those who might have questioned the relevance of the slogan Black Lives Matter in the world of dance (and all the other arts, for that matter), the panel discussion, organized by Manhattan Youth Ballet and moderated by ABC-TV's Kimberly Richardson, opened with a statement by Copeland, who only a few years ago became the first Black principal ballerina in ABT's then-75 year long history.

"In the larger picture of what's taking place in the world today," Copeland said, "I recognize that dance is only a small part of the conversation about systemic racism, but in my eyes it is an important one as the institution of ballet reflects the very systems that are now being railed against." An outspoken champion of diversity in dance, Copeland noted that in the world of ballet, many companies have chosen to exclude Black and Brown bodies and are "hiding behind the intended consequences of the systems designed to limit people of color's access to things like funding, exposure, training and equipment to justify this exclusion." Acknowledging some of the not-so-subtle ways systemic racism seeks to divide Blacks, Copeland added, "I acknowledge that being both biracial and of lighter skin is a privilege in the world and in ballet, but at the end of the day, I am unapologetically a Black woman and my complexion does not exclude me or anyone who looks like me, no matter the shade, from discrimination, so I use my platform to speak out about the lack of diversity and inclusion in ballet sometimes to people's displeasure, but I made a decision a long time ago that I refuse to be silent. Silence does not bring about change."
This determination to speak out was shared by all the panelists, and speak out they did. They recalled the ah-ha moment when they noticed the racialized nature of their beloved artform, and personal moments of being Black-while-shopping, driving, walking or just plain breathing. All spoke of the powerful significance of this present moment and the need to call out racism everywhere as they raised questions long unanswered. Everyone applauded the masses of young people whose peaceful protests are moving the needle, sounding the alarm, and pushing for reform in policing, education, housing, employment and, of course, the arts.
Alicia Graf Mack said, "While everyone is watching the news and following stories on social media, we are all hyper-aware of what is happening in our world and because we've been sheltering in place because of the pandemic, we have had an opportunity to sit with these images and ask ourselves, 'How did we get here and how are we still here?' Mack said she is thinking of young aspiring dancers coping with the current shutdowns of dance schools, studios and companies, and trying to maintain their artistry while wondering how what's happening is related to their lives as dancers. Mack said, "It's even difficult for me as an adult who has had both difficult and amazing experiences in dance to take this all in, but I wanted to say to our Black and Brown dancers that we see you and we hear you and all of us on this panel understand, and we need to take advantage of the moment and the movement to talk about the real inequities of systemic racism that is pervasive in the world of concert dance."