Dr. Olivia Hooker, first Black woman in the Coast Guard, eyewitness to Tulsa Massacre
Herb Boyd | 6/25/2020, midnight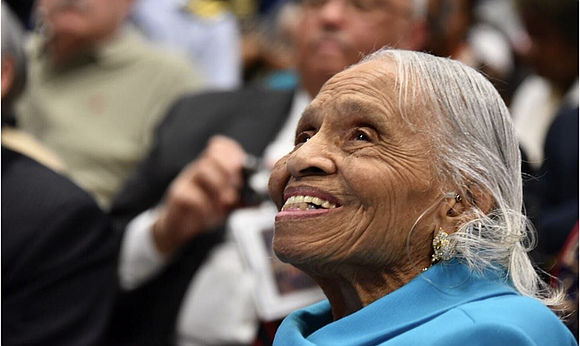 After her tenure at Fordham ended, Hooker spent a decade at the Fred Keller School of Behavioral Analysis. Here she continued her work on developmental disabilities in children. In 2002, at 87, she "retired" once more.
Three years later she began a more serious inquiry in the Tulsa massacre, going against her parents' admonitions about agonizing over the past. Soon, she was a foremost spokesperson on the Tulsa riot and helped to form the Tulsa Race Riot Commission in the late 1990s. When the late attorney Johnnie Cochran and Charles Ogletree sought a way to ground their pursuit of reparations for Black Americans, they secured Dr. Hooker, thereby giving them a living witness to the tragedy.
Still full of vigor and insight, even in her 90s, Dr. Hooker was often called on to recount the massacre, and there was even an appearance to testify before a congressional subcommittee in 2007. Eight years later, in 2015, the Coast Guard named a dining center and a training facility in her honor. One of her dreams was achieved in 2018 when the Tulsa Race Riot Commission was renamed Tulsa Race Massacre Commission.
She was 103 when she died in White Plains, New York in 2018.
Here are portions of Dr. Hooker's prepared statement at the congressional subcommittee in 2007:
"At the time of the riot, I lived on Independence Street in the Greenwood District of Tulsa with my parents and four siblings. At the time of the riot, my parents owned a home on Independence Street valued at $10,000 and a clothing store at 123 North Greenwood Avenue that was one of the most prominent stores in Greenwood. My home was severely damaged but not destroyed in the riot, however, the mob completely destroyed my parents' business, which was described as 'a total loss.' Furnishings valued at $3000 were either stolen or deliberately smashed or destroyed. Jewelry valued at $1000, furs valued at $1000, and silver valued at $500 were also stolen. The estimated total loss of goods displayed at the store was $100,000. That makes a total loss of $104,000 to our parents during that riot. My parents were distraught over the loss of the many beautiful things they had purchased with their hard-earned money. The mobs hacked up our furniture with axes and set fire to my grandmother's bed and sewing machine. I still remember the sound of gunfire raining down on my home and that the mob burned all my doll's clothes."