Fireworks and gunshots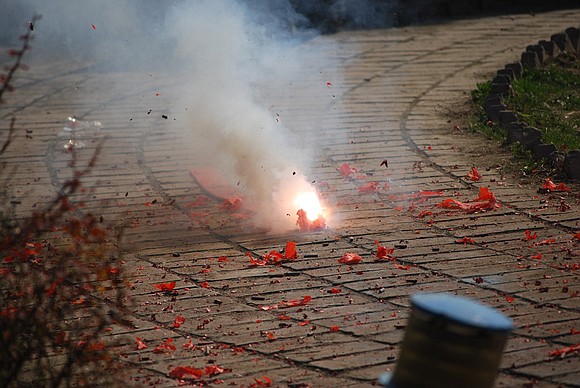 "These are high-grade pyrotechnics, not sprinklers sold in Walmart," said Harlem resident Jeremiah Drake. "They can kill someone."
With this still being the days of COVID-19, and it being Gun Violence Awareness Month, the 42% uptick in shootings would ordinarily be the headline news; but the fear and concern leading to thousands of phone calls to 911 this weekend is about fireworks, not gunshots.
This month there have been more than 13,000 complaints about these illegal fireworks compared to a total of 32 complaints this time last year.
In response to annoyed Gotham residents, the elected have demanded action. The mayor has set up a taskforce.
Brooklyn Borough President Eric Adams, Council Member Robert Cornegy and members of Brooklyn Community Board 3 are demanding the city cough up the funds to crack down on this all night firing off of illegal fireworks around Brooklyn. According to Adams' office, published reports cited 311 complaints "about illegal fireworks have surged in recent weeks, with 1,737 recorded in the first half of June––more than 80 times the amount in the same time period last year. Over the past two months, 311 logged 4,862 complaints of fireworks throughout the city." Apparently, Brooklyn has led the five boroughs in the number of complaints that came in to 311, with 2,233.
Complaints have been concentrated in areas of Central Brooklyn, such as Crown Heights, Bedford-Stuyvesant, and Flatbush.
Adams and Cornegy have called on the City to deploy the tried and tested Cure Violence groups with boots on the ground to look into the fireworks complaints, while having law enforcement groups "track the source of the fireworks and how they're flowing into the city." 
"Over the past few weeks New York City and other communities have been subjected to jarring, disruptive and dangerous fireworks," Public Advocate Jumaane Williams told the AmNews. "I made clear law enforcement actions should be directed toward the higher up distributors, cutting off the supply. To that end, I'm glad the administration seems to be focusing there. It's also encouraging to see a non-law enforcement agency engaged like the FDNY. One missing piece is the City's engagement of local clergy and local community-based organizations who work closely with the community and can be the ones to interact with lower level usage on the ground. This kind of model is critical to get right as we move into the summer. I await to see how the mayor's announcement plays out in practice."
"The uptick in fireworks complaints throughout Brooklyn are disturbing to me, which is why I called for the City to invest in credible messengers like anti-violence groups to meet people where they are, speak to them in a language that they understand to discourage the use of fireworks through communication, rather than taking a punitive approach," Adams said. "These messengers could also have a dual role in addressing the recent rise in gun violence. Law enforcement's role is to find where these incendiary devices are coming from, which remains an open question. But just as we're reevaluating the proper role of law enforcement in responding to certain illegal acts, we need to re-envision our frontline response."