Fireworks and gunshots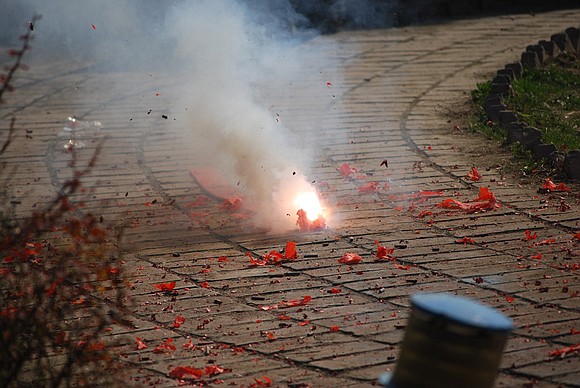 All night, every night people in the city have had their peace disturbed by the continuous racket of fireworks sounding like live and direct gunshots.
In the midst of the confusion, shootings are on the rise according to the NYPD.
Why? Who? What? Are the questions being asked.
"Whenever America catches a cold, Black America is fighting the flu," Andre Mitchell, founder and CEO of Man Up Inc. told the Amsterdam News. "Unfortunately whenever it starts to heat up in this city those of us that work to reduce shootings and killings brace ourselves for upticks in violence. The summer months are historically our busiest time of the year. Most of our work throughout the year is to hope for a summer of peace. That's why we were the founders of the month of June being called Gun Violence Awareness Month. A national campaign embraced by hundreds of gun violence prevention groups and tens of thousands of people. The uptick in shootings this year citywide is also connected to the coronavirus pandemic and the worldwide call for social justice against killer cops. Make no mistakes these three killer viruses are all interconnected. The brave men and women of the Crisis Management System and the Cure Violence Global model, who work in troubled areas without guns and badges, are beefing up our workforce in all of the 5 boroughs in different capacities. We are working around the clock mediating and interrupting potential violent conflicts. Even as this administration has made recent efforts to support our anti-violence movement, we are still far short of what's actually needed."
To add to the frustration and sleepless nights is the outrage as caught on video in the act is a youth tossing lit fireworks at a sleeping homeless man who was burned and hospitalized.
Massive amounts of fireworks suddenly in the city, another question being asked is; is it a deliberate or organized action to instill fear and disruption? Speculating that someone is dumping huge amounts of fireworks in Harlem, artist and vet Jeremiah Drake stated, "Outsiders with an agenda. People intentionally dropping truckloads (from what I hear) of relatively high grade fireworks."
Drake, a paratrooper vet from the 82nd Airborne Division declared: "These are not firecrackers. They can easily maim or kill someone…every night here in Harlem it sounds like a warzone."
Drake, who is with the Theatre of the Oppressed, told the Amsterdam News, "The fireworks are coming from Pennsylvania and upstate. My wife said that you can buy them in Walmart in Rochester.
"Firework manufacturers and suppliers are trying to get rid of their stock because we have been in our homes because of the COVID, and so many events like the Macy's Day Parade and July 4th celebrations, as we know it, weddings, and shows have been cancelled," he continued. "Usually there are fireworks displays all year long. Manufacturers and sellers want to make a profit, or at least they don't want to lose their shirt, so maybe they are selling them for a song. Or maybe they are dumping them into the community."