NYC: We're Back - City Enters Phase 2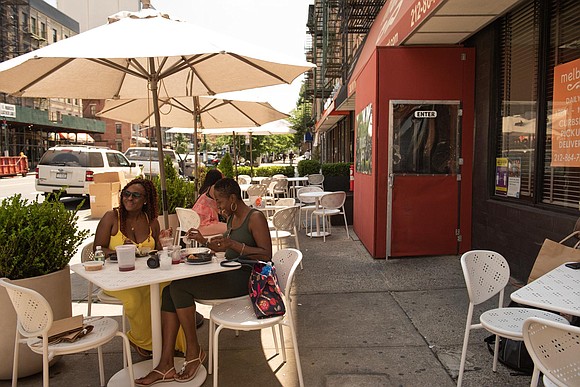 Restaurants are open for outdoor dining on sidewalks as part of the city's Open Restaurants initiative. Nearly 3,200 eateries across the city applied for the initiative, which allows restaurants to operate on sidewalk space and curb space to put in tables. Many restaurants quickly qualified instantly.
"NYC is home to over 27,000 restaurants that are in need of support as we all work together to reopen. The Open Restaurant Program is an innovative response to the most pressing issues this community faces and provides opportunities for restaurant owners to generate much-needed revenue," said NYC Department of Small Business Services Commissioner Jonnel Doris. "NYC means business and this program ensures that the vibrant restaurant community is well supported and equipped to come back even stronger than before."
Melba Wilson, owner of Melba's Restaurant in Harlem and president of the NYC Hospitality Alliance, debuted outdoor dining on Monday with outdoor tables with umbrellas and booths with covering spread apart. Wilson told the AmNews that her restaurant is taking several precautions to keep customers safe including requiring all servers to wear masks, hand sanitizer stations and using disposable to-go containers.
"The customers are so grateful and people want to get out and fellowship," Wilson told the AmNews. "We are trying to make it as safe as we possibly can."
More than 1,000 playgrounds across the city reopened on Monday as part of Phase 2 with several more becoming operational. NYC Parks is warning parents with signs that play equipment is not sterilized, children should practice social distancing and face coverings are required for children over age 2.
Social distancing ambassadors have been on hand at playgrounds to give away masks and monitor playgrounds. Other facilities at parks remain closed.
"We have a whole host of other things that we're evaluating right now," de Blasio said. "We're evaluating them all together. Basketball courts, soccer fields, tennis courts, handball courts, dog runs, you name it, we're looking at all of them."
After several weeks of months of being closed followed by weeks of curbside pick-up, retail stores and non-essential businesses can reopen for in-person service but with only 50% occupancy. Customers are required to wear face coverings and stores must enforce social distancing. Indoor malls remain closed.