Brooklyn reclaims CUNYAC title
Lois Elfman | 3/5/2020, midnight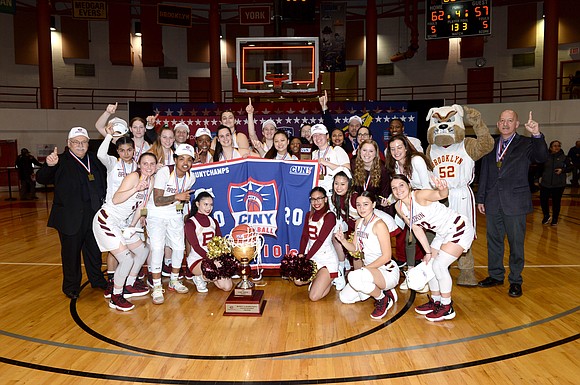 For the second time in three years, the Brooklyn College women's basketball team has claimed the CUNY Athletic Conference title and punched its ticket to the NCAA Division III Tournament. In a rematch of last year's final, the Bulldogs defeated Hunter College 62–57 in a tight, tense battle.
"It was our goal going into the season to try to finish what we didn't get to do last year, win the championship," said coach Alex Lang, who was recently named CUNYAC Women's Basketball Coach of the Year. "Having a relatively young team—we have a few veterans, but we have six freshmen on the team and one transfer—it's really nice to be able to accomplish this. I'm very proud of the team."
In addition to Lang's conference honors, junior forward Chanel Jemmott was named CUNYAC Player of the Year and senior guard Taylor George was named First Team All-Star. Jemmott was also named MVP for the championship game with 14 points and 24 rebounds.
Brooklyn natives, freshmen guards Sarah and Ericka James (part of triplets) added 21 points and nine points respectively. Lang said they came to college with solid skills—having won three PSAL City Championships at James Madison High School—and they got better as the season progressed.
Never complacent, Lang said Brooklyn actually started the season a little slow in its non-conference schedule. Once the Bulldogs shook off the early season uncertainty, it was full steam ahead for conference play—by then knowing how to finish off games and be a winning team.
"We started hitting our stride and beating teams pretty thoroughly," said Lang. "We knew the championship game was going to be pretty tough, playing Hunter again. The teams are very familiar with each other, so they know each other's strengths and weaknesses. It was a great win. A lot of players stepped up.
"We stuck with it and defended real well and did all the things we needed to do to get the victory."
Brooklyn's first-round opponent in the tournament is Bowdoin College to be played on Friday evening on Bowdoin's home court in Maine. Lang promises some run and gun to disarm the playing style of many D III teams.
This is Lang's 19th season at Brooklyn College. "It feels great looking back on the journey and the level we're at now," said Lang. "People know every year we're going be one of the dominant teams in our league and in the region. We play very competitive basketball."