Fafa Ruffino of Les Amazones d'Afrique talks new album, global women's rights
JORDANNAH ELIZABETH | 3/5/2020, midnight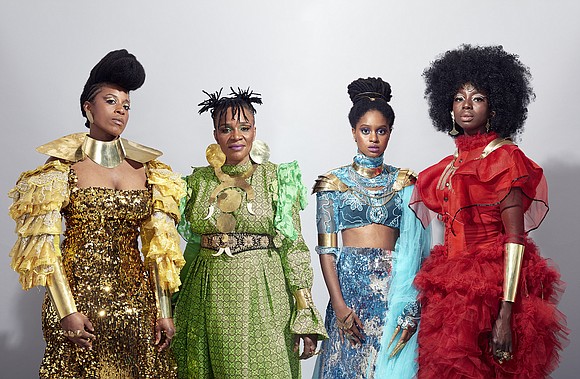 Les Amazones d'Afrique is an international collective of women and female identified singers who are coming together to spread awareness of violence and abuse against women in Africa and all over the world. Considered a global supergroup, the first Les Amazones d'Afrique album, "République Amazone" included established world music stars like Angélique Kidjo and Nneka, and featured over 17 women singers, most of which were from Mali.
But for the group's second album, member Fafa Ruffino is touring with only three other women, Kandy Guira, Mamani Keïta and Niariu, and talks to Amsterdam News about inviting younger, emerging singers to work on their latest album, "Amazones Power." The group's goal for this new record was to connect with the youth of the world and impart their anti-violence women's and girls' rights message onto the next generation, so they can find their own power within themselves.
Fafa also talks to us about the process of how the Les Amazones d'Afrique project began, the process of making the album, and how "Amazones Power" simply has everything to do with women taking over the world.
AmNews: This album, "Amazones Power" is the follow up to your debut album. What lessons have you learned since recording your first album?
Fafa Ruffino: We learned that the best way for women to make a change is to stick together and put our energy together because by teaming up and putting our voices together we realized we can have real change come from this. The more you work together, the better results you get. With the first album, there were too many people. I think there were 17 [older] female singers and they were all coming from Mali and singing in Malian languages. But with this album, it was good to open the stage for younger generation female singers.
The real target in the second album is the young generation. The young generation is the generation that is going to help us with all the things we are doing. So, it was good to include the young generation. We also changed the music. The music is quite different from the first album. It's more electro. It's hybrid music. It's electro, it's pop, trip hop and hip hop. Our director, Liam Farrell, is so connected with every kind of music and all the generations. So, when it came time to share the mood, he knew what kind of music to propose to us to catch the young generation, and this is what you have on the album.
AmNews: Before you began recording, did you go in with a specific idea of what you wanted the theme and sound of the album to be?
Fafa: The first idea was that we needed to use the music––because with music, you can go everywhere. Music is listened to everywhere on the planet. It was the best way for us to get the message out to stop violence against women. The first idea came from Valerie Malot from France, Mamani Keita from Mali and Mariam Doumbia who is from Mali as well. We had a meeting in 2015, and they were like, "What can we do as female singers to change all these things that are happening to women in Africa? What can we do? We are singing and performing everywhere, we have to do something. We can use our voices and our music to say what's wrong with all these traditions we have in Africa." Valerie said, "Ok. I'll call the producer to do the music, and you can write whatever you want. Let's call female singers and share stories about all the abuses against women and genital mutilation."