NEC presented moving Ntozake Shange piece!
LINDA ARMSTRONG | 3/5/2020, midnight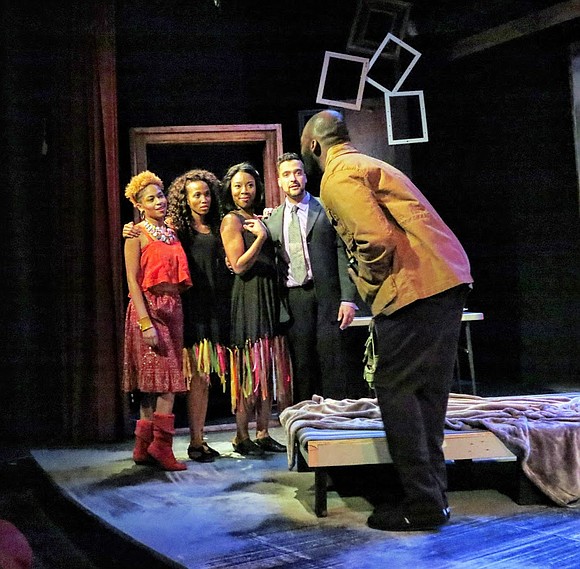 The Negro Ensemble Company (NEC) is known for doing work that reflects our community, our culture, our strengths, our pains, our suffering and it again succeeded in delivering a production which marinated in the mind, as it presented "a photograph/lovers in motion" by the late Ntozake Shange, adapted and directed by her sister Ifa Bayeza with music composed by David Murray. In this production Shange uses poetic language, dance and jazz music to express the strengths we have, our struggles, in some families a history of trauma and how that history can repeat itself in the next generation.
We were given five characters who have very distinctive issues and each of these characters is a testament to the brilliance which was Shange. Michael is a female dancer, who has an open-mind, respects and loves dance and appreciates the ancestors who laid the foundation for the artform. She is a spiritual woman with a free spirit and not at all a conventional lover. She is also someone who uses the arts to serve as a means to deal with the deep pain and trauma that has occurred in her life. She is someone who appreciates and honors her elders and for whom honesty is essential, both in herself and those she cares about. She is in love with a photographer named Sean David, he is a Black man who thinks of Black women as booty-calls and Sugar Mama's to support him and his lifestyle. He disrespects Black women, but for various reasons they accept it and often let him control them. Women seem to be attracted to him, although they know they are not the only ones in his life. Sean is this way because his father didn't love him, neglected him, physically and emotionally abused him and put having sex with prostitutes and beating prostitutes over doing anything with his son, including feeding him. His father wondered why Sean was even born. So he has serious demons to deal with. Through the art of photography Sean goes out and captures the viciousness, suffering and tragedy in Black society, as he photographs girls fighting, fellow soldiers he knew that were mutilated during wartime and drunken bums. He looks at the world from a negative lens and attempts to capture the cruelty. Sean's best friend is Earl, a Hispanic man who seems to get Earl's leftovers when it comes to women, but is really in denial about the fact that he is actually also attracted to Sean as a lover. With this play set in the late '70s, early '80s, that was definitely an unconventional thought. Claire, a beautiful Black woman who strictly goes to see Sean to get her pictures taken in sexy outfits and then to have sex, is a woman that is desperate to have someone truly love her. She is used by men for sex often, but confesses that this comes from her father saying, "give a man what he wants." Though the men are crazy about her, she is not crazy about her life, but she's trapped with being promiscuous. Nevada is the rich, snobby, lawyer who pays for Sean's place, is trying to get him a showing at a gallery and wants to be appreciated by him. Instead Sean uses her and dismisses her. She grew up with parents that had an ideal relationship, where her mother was loved, respected and appreciated and she's looking for that, but hasn't been able to find it. Being around Sean, despite his abusive treatment of her, makes her feel alive.
I give you an analysis of these characters to simply demonstrate how Shange was able to put so many issues that grab at the heart into one piece. This piece shows so many factors that contribute to us being the people we are and it doesn't have a happy ending––but then, neither does life, quite often.
The dance moves utilized so stirringly in this production were the vision of Leslie Dockery. When the show was first over I knew I had experienced something very moving, but as I let the messages marinate, I realized even more the next morning that there was a great power that Shange brought to the stage. The ensemble was captivating and included Imana Breaux as Michael—I loved the fun and easy way with which she utters Shange poetic words. Sean David was forcefully played by Adrain Washington. Earl was well done by Marc Deliz. Claire was powerfully delivered by Mystie Galloway and Nevada was amusingly performed by Nya Bowman. The show played at Theatre 80 at 80 St. Marks at 80 St. Marks Place in lower Manhattan.