TCG gala honors NBTF and David Henry Hwang in grand fashion!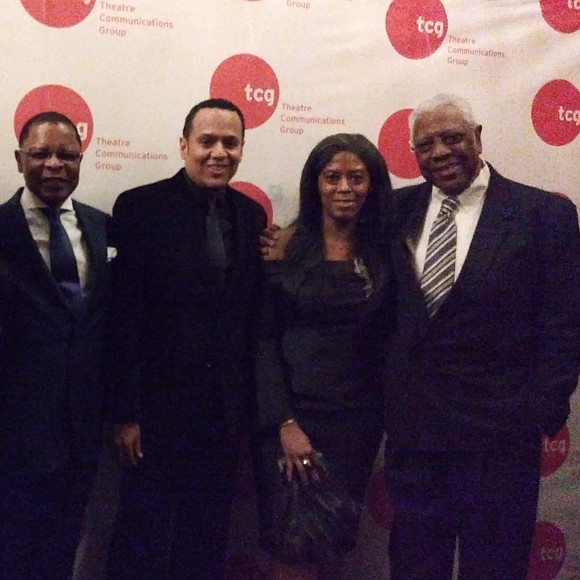 During my 32 years as a theater critic I have often proclaimed that "Theater is a gift from God," because when done well, it allows an audience for 2½ hours to escape their reality and buy into the reality that is being presented on stage. You can leave your worries and thoughts behind and just put yourself in this temporary world where you can be entertained, enlightened, educated and inspired. Theater is something that I absolutely love and because of that I so appreciate Theatre Communications Group (TCG) and its mission of connecting, assisting, and sustaining theater in the United States. I appreciate the advocacy work it does for professional non-profit theaters advocating for funding on the federal level. I think it is amazing that this organization keeps track of the pulse of what's happening in the government in relation to issues that connect directly to theaters, their funding, the new regulations and they keep theater companies aware of what's going on. BRAVO to TCG! Its slogan is it's "A Better World Because of Theatre," and I completely agree. TCG connects with, and does research and activism for theaters nationwide. They publish books by new writers, they do grant writing and professional development. Every aspect of theater that is vital for it to continue is addressed by this incredible non-profit organization. This year at the annual GALA in early Feb., TCG honored the National Black Theatre Festival and Playwright David Henry Hwang.
The event which celebrated TCG's Arts Advocacy for the Field was held at the Edison Ballroom and it was amazing! Of course, the National Black Theatre Festival celebrated its 30th anniversary in 2019. Held in Winston Salem, North Carolina, it began in 1989 and was the brainchild of the late Larry Leon Hamlin, the artistic director of the North Carolina Black Repertory Company. The National Black Theatre Festival (NBTF) is a well-known, loved, respected and anticipated Black Theatre Family Reunion. It is a chance to hear new works; see classic works; be part of Midnight play readings; experience collegiate theater; go to the noon day press conference to hear what is on the agenda for each day's activities and shows; go to panels and workshops where Black theater issues are spotlighted; enjoy an international vendors market and you can go to numerous productions over the course of the 5 days in which the festival is held. This is a place where theater-lovers get to see and mingle with acting royalty as well as newcomers get their chance to shine. The NBTF is a necessary event, which has considerably contributed to the longevity and sustainability of Black theater in this country. It was wonderful that TCG recognized and honored its achievement.
Co-chairs of the Gala, Stephen Byrd and Alia Jones-Harvey, the only Black lead Broadway producers, presented the award to NBTF. Jackie Alexander, who is now the artistic director of the North Carolina Black Repertory Company, which produces NBTF was on hand to receive the honor, along with Sylvia Sprinkle-Hamlin, president of the board of directors of North Carolina Black Repertory Company and executive producer of the NBTF.