Catchings savors Hall of Fame honors
Lois Elfman | 3/12/2020, midnight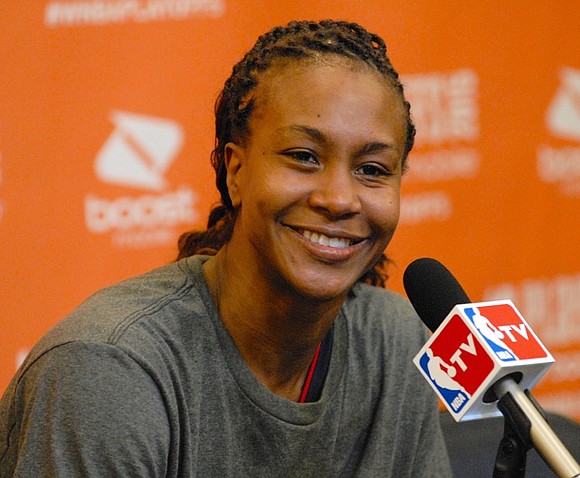 It's a busy and exciting time for Tamika Catchings, who retired from playing after the 2016 WNBA season. The NCAA champion, WNBA champion, four-time Olympic gold medalist, WNBA MVP and 10-time WNBA All-Star is a member of the Women's Basketball Hall of Fame Class of 2020. The others in this stellar class are former plays Swin Cash, Lauren Jackson and Debbie Brock, USA Basketball's Carol Callan, former vice president of NCAA Division I Women's Basketball Sue Donohoe and ESPN vice president Carol Stiff.
"It's not necessarily something you dream of as a little girl. You think about, for me, wanting to play in the NBA and then the WNBA and the success of being able to do that. Being an Olympian. The Hall of Fame, I don't know if that was an untouchable or something that was cool, but…I'm really excited about it," said Catchings, who has run her Catch the Stars Foundation since 2004.
"I challenge any class to go against our class because that's how competitive I am," she said. "Every single one of them has been an important part of my life, my success and the person that I am. … Basketball unites generations."
The Women's Basketball Hall of Fame is based in Knoxville, Tennessee, not far from Catchings' alma mater, University of Tennessee, which makes it all the more special. This honor makes her reflect on her college coach, the late Pat Summitt, who died in 2016, and the impact she had on Catchings' life on and off the court.
There are many names familiar to Catchings in the Women's Basketball Hall of Fame, including Lin Dunn, Catchings' former coach on the Indiana Fever. "It's an honor to be selected," said Catchings, 40, who joked that she's too young to be a hall of famer.
She's going to have to get used to it because Catchings is also a finalist for the Naismith Memorial Basketball Hall of Fame. The finalists were announced during NBA All-Star Weekend. This year's inductees will be announced on April 4.
Catchings played her entire WNBA career with the Indiana Fever, and she is now the team's general manager and vice president of basketball operations. After a couple of rough seasons, the Fever have a new coach, Marianne Stanley, and renewed sense of purpose. With a new collective bargaining agreement, she's excited for the future of the league.
"This CBA was really big for the advancement of the WNBA as a whole. The big push is 'players first,'" Catchings said, noting that the agreement has things such as maternity leave. "Having things that are specifically for women is great."